Koh Lanta – a wonderful mixture of uncrowded beaches, good restaurants, laid back atmosphere and great scuba diving make it a place to keep going back to.
Koh Lanta, Long Beach
Koh Lanta Beaches
Each of the links below detail the hotels, restaurants and amenities you'll find on each beach. If you want a quick overview of how Koh Lanta beaches compare, have a look at Travelhappy's Koh Lanta Beach Guide.
The view from Pimalai Resort's private jetty, Kantiang Bay, Koh Lanta
Koh Lanta Hotels
There's a big choice of accommodation on Koh Lanta to suit all budgets and occasions. The trend is upmarket, but there are still plenty of traditional beach huts to rent
Thai Seafood Restaurant, Koh Lanta – seating is at the back over the sea!
Koh Lanta Restaurants
There are a lot of great restaurants on Koh Lanta, from humble Thai street stalls to full on luxury dining. Check the Koh Lanta map below to see which restaurants are on each beach – click the knife and fork icons to get a pop up window of information about each place.
See also
Speedboat to Koh Lanta
How To Get To Koh Lanta
Krabi Airport is the nearest airport to Koh Lanta. (Find the cheapest flights to Krabi on Kayak.com). You then need to get either a taxi, which takes up to 3 hours as there are two car ferry crossings, or get a speedboat transfer, which takes a maximum of 1.5 hours.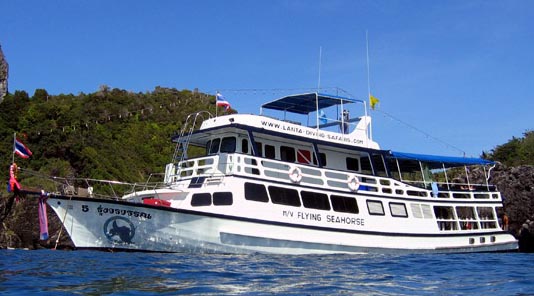 Koh Lanta Liveaboard
Koh Lanta Scuba Diving
There are some of Thailand's best scuba diving sites around Koh Lanta, a couple of hours boat ride from the island. You can go on daytrips and also on a liveaboard for 2, 3 or 4 days. Koh Lanta is also a great place to learn to dive.
Koh Lanta Sailing
If you want to go sailing and diving or just enjoy a sunset cruise for a couple of hours, Lanta Sail can provide a memorable sailing experience for you
Maya Bay, Koh Phi Phi – visit on a daytrip from Koh Lanta
Koh Lanta Daytrips
There are several excursions you can do on Koh Lanta itself, and there are numerous amazing islands to explore nearby too, including Koh Phi Phi.
Koh Lanta Massage
After a hard day's sitting on the beach, get a traditional Thai massage.