From September 1st 2014, you can get a Myanmar tourist visa on arrival by applying online through the official government visa website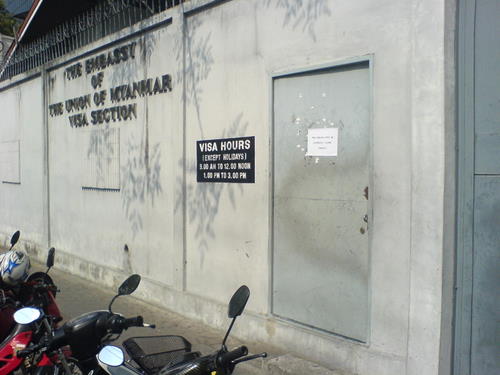 Myanmar Embassy, Bangkok - About To Get A Lot Less Visitors
As of September 1st 2014, you can go to evisa.moip.gov.mm, the official Myanmar government visa website, and apply for a Myanmar tourist visa online. This will then provide you with an approval letter that lets you get a Myanmar tourist visa on arrival into Yangon Airport.
So, it's not like you can just show up in Myanmar and get immediate access – you still need to plan in advance and apply a week or so ahead at least of your travel date.
Up until now, you had to go to a Myanmar Embassy in person and apply (as detailed in How To Get A Myanmar Visa In Bangkok). But, with the country opening up and an ever increasing number of tourists arriving, the government has decided to make the process easier.
It's still not quick, however – it takes 5 days to process and then you get emailed a letter approving your visa, which you need to print out and bring with you and present to Immigration on arrival in Myanmar. The cost is $50 US.
I am hoping check-in staff at airlines flying into Myanmar are aware of the new rules and will accept the visa letters as proof that you have a visa waiting for you on arrival – be aware you might need to explain the situation to them.
I have not used the website first hand so I can't vouch for its efficiency or security – however, I'm sure there will be plenty of posts on Burma travel forums etc about it very soon.
If you still need to get a Myanmar visa in person in Bangkok, see the previous How To Get A Myanmar Visa In Bangkok post.
Please note that whichever way you do it, you still need a visa or a visa approval letter before you arrive in Myanmar. Don't think you can just pitch up to the airport and get on a plane to Myanmar without a visa or a visa approval letter. You will simply be refused boarding.