Financial district by day, party hotspot by night, Silom is one of Bangkok's busiest areas. Home to some of Bangkok's most expensive luxury hotels and the beautiful Lumphini Park, Silom also contains some of the city's best bars and restaurants.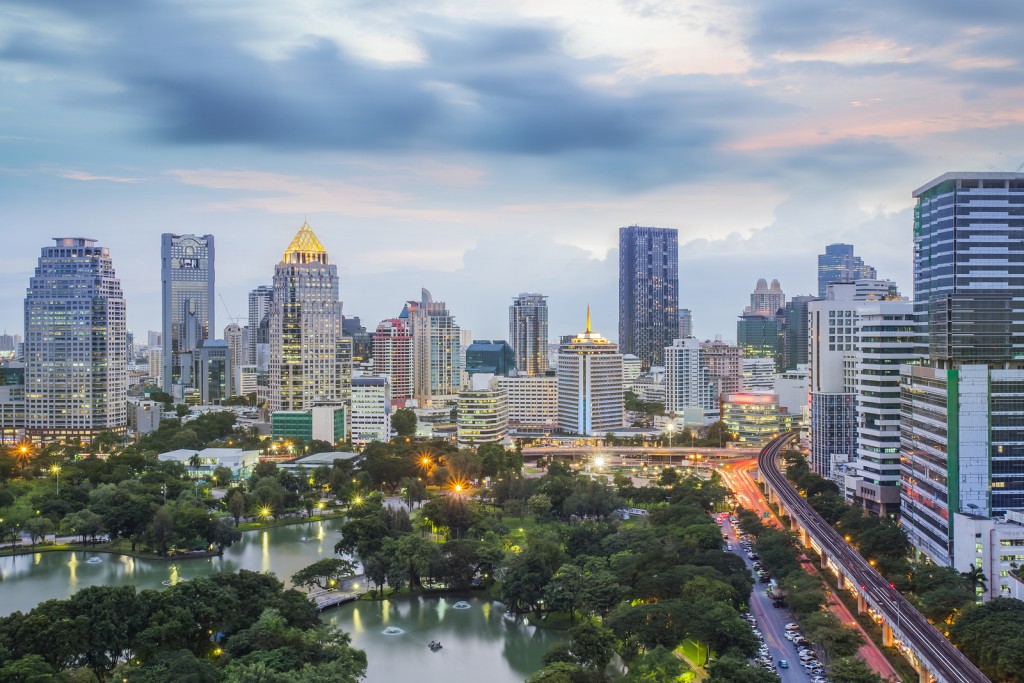 Why Visit Silom?
Silom is like a large village with lots of nightlife and eateries to explore that are relatively close to one another. Silom covers the area between the south side of Lumphini Park and the Chao Phraya River. It's home to two of Bangkok's most important roads, Silom and Sathorn. Sathorn itself is the financial district which loosely forms one edge of Silom. Both areas are easily accessible via the MRT Subway or the Silom Line of the BTS Skytrain.
The Saphan Taksin pier is located in Silom, making the area a great choice if you're interested in exploring Bangkok by river boat while staying near the BTS and MRT.
Things to See and Do in Silom
Lumpini Park © Eric Molina
Places to Eat in Silom
Duck Noodle Soup © Eric Molina
Street Food on Soi Convent
A short walk from Sala Daeng BTS station, Soi Convent is packed with restaurants, bars and street food carts offering inexpensive, delicious Thai food. Dishes rarely cost more than 60 baht a plate and range from fried noodles to curry and more.
Street Food on Silom Soi 20
Early in the morning, Silom Soi 20 is the area's low-cost eating capital for Silom's many office workers. At night, the street stalls aren't so numerous, but plenty of local restaurants are open offering everything from pad thai to grilled chicken.
KHO Khao Man Gai, Rama IV
KHO serves one dish: khao man gai, or chicken rice. Choose from boiled or fried chicken on rice, complete with a selection of sauces. Open 24 hours, you can find KHO below Too Fast To Sleep, a 24-hour café on Rama IV popular with students.
Junker and Bar, Soi Suanphlu
Junker and Bar serves an excellent combination of "junk" food and cocktails. From burgers to squid ink pasta, the dishes are affordable (mostly under 200 baht) and the drinks are strong, making this a favourite of locals and expats alike.
Dean & Deluca Café, Mahanakhon
Located in what will soon become Bangkok's tallest building, Dean and Deluca Café brings New York deli food to Bangkok. The Sathorn branch, located close to Chong Nonsi BTS station, serves up a wide range of meals and excellent coffee.
Ramen Tei, Soi Thaniya
Open since 1983, Ramen Tei is one of Bangkok's oldest ramen restaurants. Located on Soi Thaniya, Bangkok's version of Tokyo's Kabukichō, Ramen Tei serves a range of ramen dishes, as well as Japanese favourites like karaage and gyoza.
Eat Me, Soi Pipat 2
Located a short walk from Sala Daeng BTS station, Eat Me serves up a wide range of international dishes. In a city where hot restaurants come and go, Eat Me has been open since 1998 and continues to attract a loyal crowd of locals, expats and tourists.
Namsaah Bottling Trust, Silom Soi 7
Located inside a bright pink classic house, Namsaah Bottling Trust serves up a mix of comfort food and Thai-inspired fusion dishes. Strong cocktails and the beautiful setting make it a great choice for dinner and drinks in Silom.
661 Silom, Silom Road
Steak and champagne is the name of the game at 661 Silom – a steakhouse and wine bar located on Silom Road. Beef is sourced from Australia, Japan and the USA, while the wine list primarily consists of high-end champagne.
AOI, Silom Soi 6
AOI is one of Bangkok's best Japanese restaurants, offering classic sushi, sashimi and other delicious Japanese favourites. The Silom branch, found on Soi 6, is a short walk from Sala Daeng station.
Indigo, Soi Convent
Indigo is arguably Bangkok's best hidden French restaurant. Famous among French residents but largely unknown to others, Indigo serves classic French dishes and an excellent selection of wine.
Kai New Zealand, Sathorn Rd
From homemade pizza to fish and chips, Kai New Zealand serves tasty New Zealand meals from 7 am daily. The excellent fish and chips is a nice treat if you need a break from dining on Thai food.
Issaya Siamese Club, Soi Sri Aksorn
Step into a 1920s villa and enjoy some of the world's best Thai food. Owned by chef and TV personality Ian Kittichai, Issaya Siamese Club serves modern Thai food in an amazing setting. Best accessed via taxi or Khlong Toey MRT station.
La Table de Tee, Saladaeng Road
La Table de Tee serves a daily changing tasting menu of French-inspired Thai food cooked by expert Thai chef Tee Kachonklin.
Nahm, Hotel Metropolitan
Ranked 13th in The World's 50 Best Restaurants and 1st in Asia's Best Restaurants, Nahm serves amazing Thai dishes in a stylish, modern setting. Reservations are highly recommended, especially if you're visiting for dinner.
Vertigo and Moon Bar
Enjoy panoramic views of Lumphini Park and Sathorn Road's dense skyline from Vertigo and Moon Bar atop the Banyan Tree Bangkok. Vertigo serves fusion food, while Moon Bar offers tasty cocktails and an unforgettable view.
Sky Bar at Sirocco
One of several rooftop bars in Silom, Sky Bar at Sirocco was famously features in The Hangover II. Unlike Vertigo, seats aren't available at Sirocco unless you're dining, but the fantastic view more than makes up for that.
The Scarlett Wine Bar and Restaurant atop the Pullman G Hotel also offers a great view and fantastic drinks. For a more affordable and Thai-style rooftop experience complete with live music, try Cloud47 on the 47th floor of the United Centre.
Park Society
Park Society offers strong cocktails, great music and great views of Lumphini Park from the 29th floor of Sofitel So Bangkok.
Luxury Hotels in Silom and Sathorn
Best Luxury Hotels in Silom
Mid Range and Budget Hotels in Silom / Sathorn
Best Mid Range Hotels in Silom
Best Budget Hotels in Silom
Lullaby Inn Silom
A five-minute walk from BTS Chong Nonsi, Lullaby Inn Silom might not be Silom's most luxurious hotel, but its convenient location and affordable rates make it great for budget travellers.
Lub d Bangkok
One of Bangkok's most acclaimed hostels, Lub d Silom offers a convenient location, exciting lobby bar and affordable rooms. Sleeping options range from shared bunks to private rooms.
HQ Hostel Bangkok
With beds available from just 350 baht per night, HQ Hostel is one of Silom's most affordable accommodation options. Free Wi-Fi, 24/7 check-in and a great location on Silom Road make this a good choice for budget travellers.
Everyday Bangkok Hostel
Everyday Bangkok Hostel's cool décor and comfortable beds make it a great place to sleep on a budget. A short walk from Wat Hua Lamphong, Everyday is conveniently located close to the MRT station at Sam Yan.
Orchid Hostel
Orchid Hostel offers comfortable, convenient accommodation close to Sala Daeng BTS station. Clean and quiet, the hostel's rooms are comfortable, it a bit minimal, making it a great choice for budget travellers seeking convenience.
Nightlife in Silom
Sky Bar © chee.hong
Ku De Ta
Located on the 39th floor of Sathorn Square, Silom's newest office development, Ku De Ta offers amazing views of Bangkok's dense skyline. As Silom's place to be seen, Ku De Ta attracts a mixed crowd of expats and high society Thais.
Maggie Choo's
Underground in the basement of the Novotel Bangkok Felix Silom, Maggie Choo's is like stepping back into 1930s Shanghai – opulent, secretive and decadent, with a drinks list to match (and prices too).
Wong's Place
With its walls covered in posters and photos, Wong's Place has no shortage of style and character. This late-night bar starts filling up around midnight and stays open until the early morning serving inexpensive beer and cocktails.
Smalls
Located on the corner of Suan Phlu Soi 1, Smalls serves tasty comfort food and great cocktails with a relaxing jazz soundtrack. Drinks start from 350 baht, with cocktails seriously strong by default.
Molly Malone's Irish Pub
Silom is home to two Irish pubs. Molly Malone's on Soi Convent attracts a crowd of locals and expats, while Flann O'Brien's attracts a mix of expats and tourists from the nearby bars at Patpong.
Located in the basement of the United Centre, The Pintsman is a local sports bar that attracts office workers and expats seeking a post-work pint and pool game.
Soi Thaniya
Bangkok's version of Tokyo's Kabukichō, Soi Thaniya offers Japanese-style izakaya and hostess bars aimed at Bangkok's population of salarymen and Japanese tourists.
Soi Patpong
Patpong is synonymous with the seedier side of Bangkok's nightlife. Although the local night market has attracted a new crowd to Patpong in recent years, Patpong remains one of Bangkok's most infamous red light districts.
Silom Soi 4
Silom is Bangkok's gay nightlife capital, with the biggest collection of bars found on Soi 4. Popular nightspots include Telephone and The Balcony, two large bars found on opposite sides of Silom Soi 4.
DJ Station & Silom Soi 2
DJ Station is Bangkok's most popular gay nightclub. A short walk from Silom Soi 4, it's surrounded by tiny bars popular with locals and tourists alike, as well as a wide range of late-night eating options.
Getting to Silom
By BTS Skytrain
Silom is served by its own BTS Skytrain line – the Silom Line – with several stops in the area. Most of Silom's nightlife is found around Sala Daeng station, while offices and hotels are clustered around Chong Nonsi and Surasak
By MRT
Silom is served by several MRT stations. Si Lom station is connected to Sala Daeng BTS by a skywalk, while Sam Yan and Hua Lamphong stations provide access to Wat Hua Lamphong and Bangkok's regional train station.
By River Boat
The BTS Skytrain's Silom Line connects with Taksin pier at Saphan Taksin, making it easy to reach Silom by river boat. Express boats make the pier a convenient place to depart for attractions like the Grand Palace and Wat Pho.
Bangkok BTS and MRT Map
View Bangkok BTS and MRT Map full size.
Bangkok Area Guide
Quick summaries of what's interesting in each major Bangkok area: