Getting to the ancient temples of Angkor is easy from Bangkok, allowing you to see the temples in a couple of days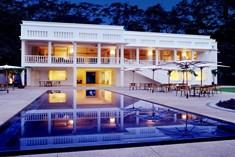 Flying:
By far the easiest way to get to Angkor Wat from Bangkok is to fly. Skyscanner compares the cheapest flights on Siem Reap Airlines, who offer daily direct flights from Bangkok to Siem Reap airport (the town nearest to the Angkor temples).
The airport code for Bangkok is BKK and the airport code for Siem Reap is REP
The flight takes about one hour and Siem Reap airport is only a 20 minute drive from the town. There are also direct international flights to Siem Reap (Angkor) from many other countries – check Skyscanner for details.
Siem Reap Airlines is part of Bangkok Airways, who in turn have a monopoly on flights from Bangkok to Siem Reap. This is why the flights are quite expensive.
For Bangkok to Siem Reap flights, you can book your tickets online through Skyscanner, but you might need to collect the physical tickets at the airport from Bangkok Airways ticket desk in Suvarnabhumi Airport before you check in, so allow extra time for that. You will also need a passport photo for your Cambodian visa, which you get on arrival at Siem Reap airport. The visa fee is currently $25US, payable in US dollars cash. There is also a $25US airport departure tax, payable by cash or credit card.
Bangkok Airways currently dominate the Bangkok – Siem Reap flight route, but Air Asia are likely to start flying the same route in 2006. They have already launched a direct flight service between Kuala Lumpur and Siem Reap. Air Asia tends to be considerably cheaper, so it's worth checking their site.
UPDATE: Bangkok to Phnom Penh flight and the drive to Siem Reap
Since I wrote this article originally, the road between Cambodia capital city, Phnom Penh, and Siem Reap have improved dramatically. A friend of mine recently (Feb 2007) did the Phnom Penh to Siem Reap road trip and it took around 6 hours on a well-sealed road.
Therefore another option to consider is to fly Bangkok (BKK) to Phnom Penh (PNH) – check Skyscanner for flights and also AirAsia.com – stay a couple of days in Phnom Penh and then get the bus up to Siem Reap. The flights to Phnom Penh tend to be considerably cheaper. I wrote about my own recent weekend in Phnom Penh if you want some ideas of what to see there.
Overland:
If you want to save cash and go overland from Bangkok to Siem Reap, you can get a bus or train to the border town of Aranyaprathet and then transfer over the border. Once in Cambodia the roads deteriorate rapidly – expect a long and uncomfortable trip and pack accordingly. Gordon at Tales Of Asia has an excellent and exhaustive section of his site dedicated to describing the practicalities of this journey.
Angkor Wat Must Sees
If you decide to go to Angkor Wat, have a read of my Brief Guide to Angkor Wat, Cambodia – it's in three parts and gives a rundown of what I think are the best temples to see and a bit of history along with practicalities to let you get the best out of your time at the temples. You might also want to consider Angkor Thailand, the Angkor-period temples that are located within Thailand. Some of them are stunning and much less crowded too.
Angkor Wat Accommodation
There is a lot of accommodation in Siem Reap, from very cheap guesthouses to a plethora of huge, corporate 5 Star hotels. Agoda has plenty of Siem Reap Hotels which you can book online.
If you've got the cash, I also unreservedly recommend the FCC Angkor hotel – follow the link for my review and some pictures. It's where Angelina Jolie stayed when she was making the Tomb Raider movie at Angkor. It's not the most expensive of Angkor's luxury hotels, but it's certainly one of the classiest. You can book the FCC Angkor hotel online at Agoda.com
More on Travelhappy about Temples In Thailand, Cambodia and Burma: