Waiting to hook up with friends flying into Bangkok? Need to know if their flight is on time before you set out to the airport? Use the Bangkok Airport Real Time Flight Info webpage to keep in touch
Khao San Road hotels you can book online: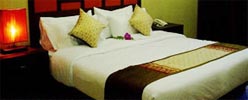 UPDATE: There is a better Bangkok Airport Real Time Flight Information tool here – this gives accurate info on arrivals and departures at Bangkok's new Suvarnabhumi airport.
You can also see real time flight information for these Thailand airports as well:
Phuket
Koh Samui
Chiang Mai
Chiang Rai
I'm currently waiting for my girlfriend to fly back to Bangkok after a month of teaching English in Korea – and I'm currently logged on to the Bangkok Airport Real Time Flight Information page while I type this so I can keep an eye on her flight arrival time. Currently it's 15 minutes late which saves me hanging round in the airport.
This page covers Bangkok's Don Muang Airport – hopefully it will cover the new Suvarnabhumi international airport when it opens next year too.