Japan is renown for getting the latest electronics at the cheapest prices, but are there really bargains to be had when shopping for cameras in Tokyo? Here's what I found out.
While in Japan recently, I paid a visit to Yodabashi in Tokyo's Shinjuku district, reputed to be the biggest camera store in the world. Certainly the mayhem of neon and consumer frenzy that greeted us as we walked up to its six floors of gadgets was pretty overwhelming. The camera shop is located at the back of the ground floor, with its own side entrance. There are literally scores of cameras laid out on row after row of display shelves, most of which are plugged in and all ready to play with. This makes checking cameras out much more interesting because you get to try before you buy.
[UPDATE: I've also written an article about buying digital cameras in Thailand too and added the latest Ebay auctions for digital cameras at the end of this article – scroll down to see them]
The staff in Yodabashi speak limited English but are very helpful and courteous – if you know what you want before you already get there, then it's a pretty straightforward transaction. The gentlemen who served us also ensured that we got the going discount and suggested Lexar SD cards rather than Panasonic as the Lexar cards were much cheaper, so they looked after us well.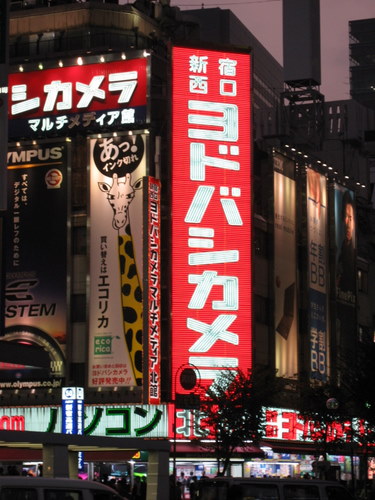 The Yodabashi Camera Store, Shinjuku, Tokyo
I decided to get the Canon IXUS 800 IS (known in the USA as the Powershot SD700) I've been lusting over for quite a while, especially as it was substantially cheaper than I could buy it in Bangkok – about £55 UKP or $100 USD less.
The price of the IXY 800 was around £175 in Japan, less than the IXUS 800 £225 price on Amazon.co.uk but not as good as the $304 price on Amazon.com for the Powershot SD700.
My dad decided to get a Canon IXUS 65 (also known as the Powershot 630 in the US) as it had a really big LCD screen on the back which helped him see the images much clearer than on his previous Canon. The IXUS 65 is £170 on Amazon.co.uk and the Powershot 630 is $247 on Amazon.com. The saving here was not so big – the IXUS 65 retails at around £155 in Japan.
Both of us got underwater housings to go with the cameras as well. While the camera price discounts were not that dramatic, where we made a huge saving was on the cost of the underwater housings. On Amazon UK the WC DP5 camera housing for the IXUS 800 is £135 UKP – in Japan it's £75! On Amazon.com the WC DP5 is $167, so it's only around 20 dollars cheaper in Japan.
Similarly the IXUS 65 WP-DC3 camera housing is £135 on Amazon UK and also £75 in Japan. On Amazon.com the WP-DC3 is $159, so it's pretty much the same.
I also checked out Nikon lens as I was interested in buying a Nikon 12-24 mm wide angle lens for my Nikon D70s SLR, but the price was not much cheaper that what I could buy it for in Bangkok – around $1000. It's currently available for around $900 on Amazon.com through a third party retailer.
As such, price wise, Japan is a lot better than UK prices but the same, if not slightly more expensive, than the USA. It goes to show how badly UK consumers are getting ripped off. Cameras bought in Japan do not come with an international warranty either – the warranty is only good in Japan. This is not something that bothers me but is worth taking into consideration if you purchase something more complex and expensive than a digital compact camera.
Next year I'm going to Florida for a wedding in April, so I might take advantage of the great prices of cameras in the USA to stock up on Nikon lenses, if my bank balance can stand it. It looks like we'll be stopping off in San Francisco, Miami, Orlando and possibly New York City, so if anyone has recommendations for camera shops in any of those cities, I'd love to hear them, especially if they do Ikelite gear too.
In the meantime, I'm looking forward to trying out my IXUS 800 underwater for the first time in Bali and Komodo – I've already been very impressed with the clarity of images it's taken on land, so I hope it will do the same when submerged too.