Myanmar's Nobel Peace Prize laureate Aung San Suu Kyi turns 64 today – and is still in prison. Her recently republished book "The Voice Of Hope" provides a superb recap of who Aung San Suu Kyi is and why she has sacrificed her family and freedom in the hope of a free Burma.
The Voice Of Hope (find it on Amazon.com | Amazon.co.uk) is a collection of conversations with Aung San Suu Kyi held over nine months by the book's editor Alan Clements. The book was originally published in 1995 after Clements met with Suu Kyi shortly after she was released from her first period of house arrest. It's now been revised and updated by Clements and is a timely reminder of Suu Kyi's importance and her contribution to Burma's struggle for freedom from the military junta's control of the last four decades. It's also a great insight into Suu Kyi as a person – her compassion, humour and intelligence shine through. It's worth taking a look at USA publishers Seven Stories Press site – they have a page with PDF excerpts from the book plus YouTube videos of Suu Kyi and Alan Clements. (Ebury Publishing publish The Voice Of Hope in the UK and were kind enough to send me a review copy).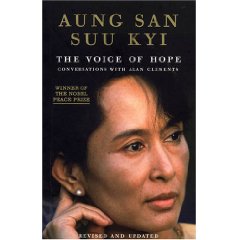 aung-san-suu-kyi-voice-of-hope
A worthwhile counterpoint to this is the Aung San Suu Kyi biography Perfect Hostage – Justin Wintle does a good job of explaining Burma's post-war politics and how Suu Kyi became an unlikely figurehead for Burma's freedom – and also points out that while Suu Kyi is incredibly noble, she is not infallible (nor would she claim to be): if she ever does become free and able to properly contest an election again, it will not mean the end of Burma's troubles. Even so, for her to be released and free elections to be held in Burma would be momentous – and seems to remain a remote possibility. Suu Kyi's health is beginning to ebb and the war of attrition the military junta are playing against her does not bode well for the future.
If you can read French, you should also check out Aung San Suu Kyi: Le Jasmine Ou La Lune by photojournalist Thierry Falise. If you're interested in more books about Burma, see my Burma Recommended Reading list. It's not all political stuff – I definitely recommend Land Of A Thousand Eyes for a fascinating and funny expat take on everyday life in modern-day Burma.
Here's the Amazon review of The Voice Of Hope: "Like Dr. Martin Luther King Jr., Mahatma Gandhi, or the Dalai Lama, Aung San Suu Kyi has become an international symbol of struggle against repression and brutality. In The Voice of Hope, she emerges as a human being–a mother of two sons as well as an inspirational human rights advocate and all-around moral compass. Once a soft-spoken scholar living in England, this daughter of a Burmese military hero catapulted to prominence as the spokesperson for her country's beleaguered democracy movement. Even when imprisoned by Burma's ruling junta, she continued to work for freedom and human rights, eventually winning the Nobel Peace Prize and attracting the world's attention to the plight of Burmese dissidents. The Voice of Hope chronicles nine months' worth of her conversations with British-born Alan Clements, a Burma expert and former Buddhist monk. The two discuss love, truth, power, compassion, and freedom from fear as well as Aung San Suu Kyi's own brand of activist Buddhism. In the process, a portrait emerges of a profoundly religious as well as political leader, a woman who used years of house arrest to develop her meditative practice, mindfulness, and spiritual strength."
And here's the info from back cover of the book which describes the updates: "Aung San Suu Kyi is known for her courageous stand for democracy and human rights inside Burma (now Myanmar). Forced to endure many years of house arrest by the military junta, she continues to act as a focus for change inside a country that is ruled by one of the most hard-line dictatorships in the world. Such is her determined action for the best interests of Burma that she was awarded the Nobel Peace Prize in 1991.
In September 07, the Burmese monks led a powerful protest against their government, which was brutally put down. Yet, in the midst of their struggle, they still were encouraged by the sight of Aung San Suu Kyi, who is still imprisoned.
One of the very few people she has trusted enough to take her message to the wider world is Alan Clements. The Voice of Hope is the result of the secret and dangerous meetings they had over several years, and offers unquestionably the most wide-ranging collection of her views on the political situation inside Burma, her non-violent approach to democracy and human rights, her Buddhist beliefs, her family, and how she keeps a sense of meaning and purpose under the most appalling conditions.
Brand new material includes an inspiring discussion with U-Gambira, the leader of the All-Burma Monks Alliance, conducted after the 2007 uprising (he has since 'disappeared'). There is also an updated Chronology of Events of recent Burmese history, a new Introduction and a new list of Burma-related websites."