While scuba diving in the Philippines recently, I spotted a beautiful but deadly black and white banded sea snake. I started taking photos and then I realised the sea snake had started taking an interest in me…
I'm back from two glorious weeks in the Philippines and all in one piece too, which I'm all the more thankful for after this particular incident with a sea snake. I was diving at Sogod Bay in Southern Leyte, which is, incidentally, a spectacular place to go scuba diving. The whole area is totally unspoilt at the moment, with very few hotels or other tourist amenities – just a couple of dive resorts like the guys I was diving with at Sogod Bay Scuba Resort. It must have been what Thailand looked like 20 years ago.
Anyway, I was taking photos underwater with my big Nikon and Ikelite rig. I'd lent my trusty Canon IXUS camera to Pedro, my Divemaster, so he could take some pix as well if he wanted. Pedro has got the sharpest eyes of pretty much any dive guide I've met and is brilliant at finding critters on the reef. When I spotted the sea snake, I started following it along the reef at a respectful distance, snapping away and trying to capture its fast moving grace. I was staring at the snake through the viewfinder of my camera, which tends to focus your mind on nothing else but what you can see. It suddenly occured to me that the sea snake was actually getting closer to me even though I was stationary. It then occured to me that it was so close I couldn't get it in focus. I peered over the top of my camera. And the sea snake peered straight back at me: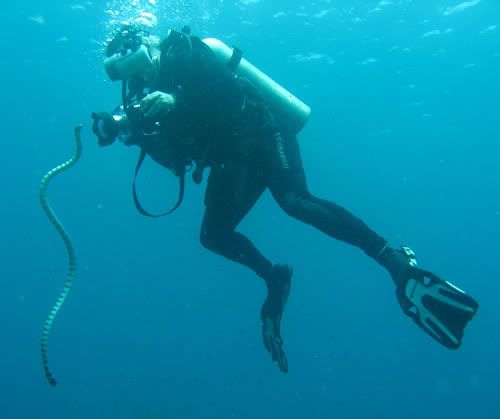 Me making a new friend underwater. Photo: Pedro Batestil
It really is quite an eerie feeling to be looking into the eyes of a snake while both of you are suspended underwater. I already knew that sea snakes rarely attack people and even if they do, they have a hard job getting a purchase with their fangs to inject their deadly venom. Even so, the sea snake was currently about 12 inches from my fingers holding the camera. I suddenly realised what was going on – the snake was staring at its own reflection in the dome port of my camera. I hoped it wasn't going to start headbutting the camera. Or decide to wrap itself round the strobe handle which I was holding. Or wrap itself round my leg, for that matter. Luckily I didn't have to think about it too much longer – after a couple more seconds, the snake gently slipped away through the water, back onto the reef and then was gone. Pedro, meanwhile, had been keeping close watch and taking photos – it's his handiwork about that caught the moment when I came face to face with a deadly sea snake.
Here's a couple of the many, many photos I took of the sea snake while far enough away from it to focus the lens: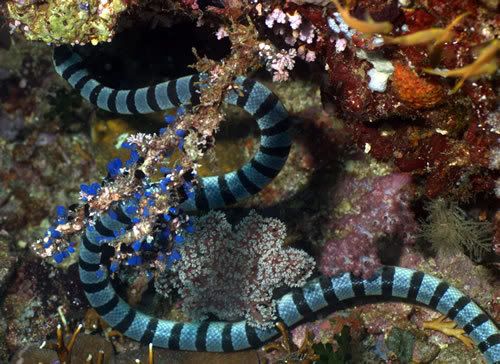 I'll be writing more about scuba diving in the Philippines on my scuba diving blog, Divehappy.com