Getting a micro sim for your iPhone 4 in the Philippines is quite straightforward – if you know where to ask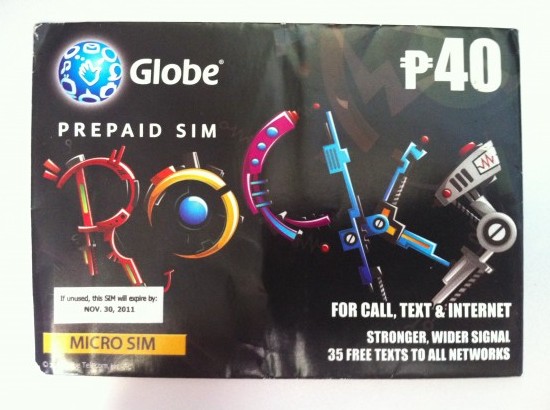 If you are traveling in the Philippines and want a micro sim card to fit into your iPhone 4 and so have access to data, text and voice calls at local prices, the best telecoms shop to look for is Globe. Globe is one of the national telecoms providers within their own chain of shops across the country. (Smart is another, although I wasn't able to find out if they also provide iPhone micro sims on the same basis – I would guess they do).
At the Globe shop, iPhone 4 sim cards cost 40 Pesos – $1 US – and then need to be topped up with a pre-pay card. I added 500 pesos ($12) to mine. Setup is straightforward although you'll need the staff in the shop to check the APN settings to get your Internet connection working.
At the time of writing (June 2011) , you get 24 hours unlimited web surfing if you text SUPERSURF50 to 8888. If you text SUPERSURF 220 to 8888 you apparently get 5 days unlimited web surfing. So if you didn't need to send texts or voice calls, you could get away with topping up with just 100 pesos if these promo codes still work. Ask the shop staff if there are any promo codes when you buy the micro SIM – the Filipino telecoms companies are always launching new promotions.
The main thing about seeking out a Globe store is that they actually know what a micro sim is as they are one of the official retailers of the iPhone 4 in the Philippines. If you go into one of the many unofficial phone retailers you'll see in every Philippines town don't be surprised if the staff have never seen or heard of a micro sim card before – it's not really their market as iPhones have yet to become ubiquitous. Going direct to a Globe shop makes it much more straightforward.