An oasis of calm on busy Asoke Road, Bitter Brown cafe has excellent coffee and food to match in a comfortable contemporary Thai setting
I have been told by some less discerning diners that I am picky and rarely satisfied with food when dining out. This is not entirely the case – I am happy when the food is good, the restaurant nice, and the staff friendly. That, after all, is what we are looking for when we dine out. It isn't enough just to throw a plate of food together and serve it up. It is meant to be an experience and hopefully a good one.
I work in Asoke in Bangkok and walked past the Bitter Brown coffee shop for weeks before deciding to give it a try. Bangkok is not really known for its nice coffee shops unless you count the chain stores – you know who I'm talking about. Bitter Brown is a Thai-owned, independent cafe.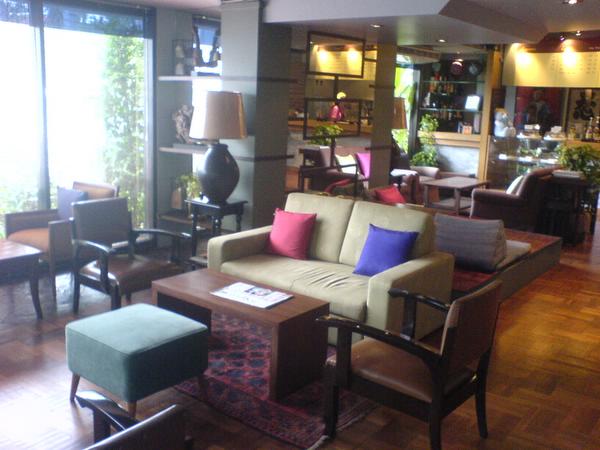 The ambiance of Bitter Brown is very relaxing and cozy. There are several sofas, cushions on the floor, as well as regular dining tables for people to relax, surf the net, have a meeting or just read the newspaper. There is a great selection of art on the walls and the interior is very Thai-contemporary and makes you feel relaxed as soon as you walk in. They offer hi-fi for a nominal price and there are often people there just having a blueberry shake and taking a break. The husband and wife who run the place are usually around to ask if you enjoyed your meal and are never in short supply of smiles. As you can probably tell, I am a convert to this place and have introduced many colleagues and friends to this place and they all love it. They are open from 10am until 9pm and serve beer and wine as well as great coffee.
The first time we tried the food at Bitter Brown they hadn't got the recipes and coffee quite right but it didn't take long to iron out all the wrinkles and build a healthy clientele. Everything that I have subsequently sampled from desserts, mains, and light snacks have all impressed.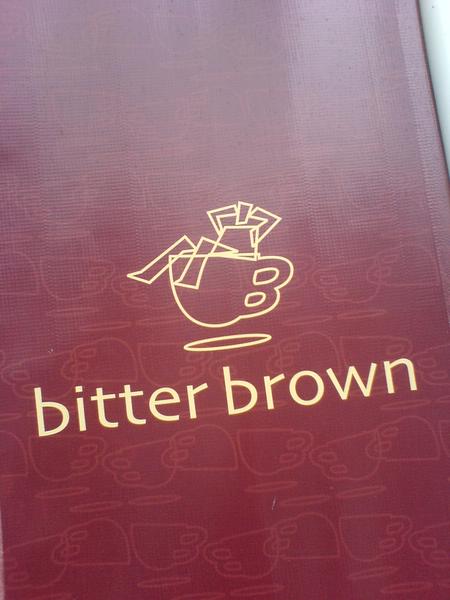 Bitter Brown provide a cracking cafe latte and other frothy coffee delights and also have a variety of decent homemade desserts on offer. All the food is made with attention to detail with the best ingredients and all at a reasonable price too. The menu changes regularly and you can always try something new. There are various pasta, salad and chicken dishes on offer, with vegetarian options too. The portion sizes are healthy but not so overwhelming that you have to roll yourself out the door. Lunch and Dinner dishes (the menu is the same) run from 95 baht to 300 baht. The more expensive dishes are usually a pan fried fish of some sort with rice and veggies.
Bitter Brown is less than a five minute walk from either Sukhumvit MRT or Asoke BTS. It's on Asoke Road (Sukhumvit 21) a few metres past the notorious Soi Cowboy. Don't let the location scare you. The jazzy music, good food, friendly staff, and ace coffee will make you leave feeling better than when you arrived.