You've never seen Hello Kitty like this before – straight out of the mean streets of Sin City, emblazoned across a handbag that oozes Japanese uber cuteness and graphic ultraviolence simultaneously.
As found in a Bangkok mall yesterday – the Sin City / Hello Kitty handbag mashup! We bought one, naturally. We'd have bought 10 if they had them. This is just one of a bunch of clever mashups between Hello Kitty and other famous films, obviously breaking every copyright in the book but undeniably creative all the same. (Although the Hello Kitty Vibrator might be taking it a bit too far). There's a lot of this stuff in Bangkok as there is a burgeoning design and fashion scene here, with lots of university students et al working as mini-entrepeneurs too. I've noted the Hello Kitty / Milo mashup tshirt before, but these are really impressive.
Neko is the Japanese for "cat", although I believe even the Japanese refer to Hello Kitty by her English name rather than a Japanese translation of same. It works nicely here because it sounds like "Necro" which would mean Dead City. It could even mean Death By Hello Kitty.
Here's the bottom view of the bag:
and the side view: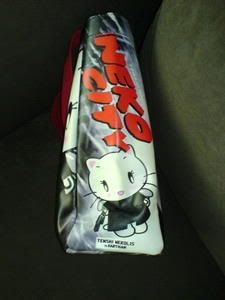 There was also the Hello Kitty / Da Vinci Code mashup –

and SuperNeko Returns!
if you want bigger versions of the pictures, click the thumbnails below:

If you're interested in Thai design, check out the book Making Thai, and also the semi-legendary Engrish Tshirt Fun, a collection of amusing tshirts seen in Bangkok (warning: some are a little NSFW).
Find Hello Kitty Handbags on Ebay
Not an Ebay registered user yet? Sign up today – it's free!
[phpbay] hello kitty bags, 30 [/phpbay]