It's 10 years since the Asian financial crisis which left many developers in Bangkok bankrupt. The half finished, multi million dollar condos and offices they left behind are known to the Thais as Ghost Buildings
CNN has been running a lot of stories today about the Asian financial crisis of 1997, as this is the 10th anniversary of the crisis's onset. One of the stories they've covered is "Thailand's Ghost Buildings". The Thai Baht suddenly devalued and caused absolute chaos in Thailand's economy, wiping out businesses and the value of personal savings overnight. Thailand, like the other Asian Tiger economies, had been enjoying an unprecedented growth period up until the onset of the crisis – with the collapse of the Baht, scores of half built skyscrapers in Bangkok were literally abandoned overnight, their owners bankrupted and their workers suddenly left without jobs or wages.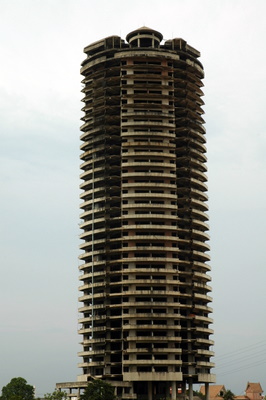 Many of these scores of abandoned skyscrapers still stand in Bangkok a decade later, left to decay and now so battered by heat and monsoon rains. They occupy some of Bangkok's prime real estate on the Chao Phraya river and within the heart of the city, so they are difficult to miss. Bangkok is currently experiencing another property development boom despite the current political troubles, but there are plenty of investors, both Thai and foreign, who worry that there might be another bust too. Meanwhile, the ghost buildings remain as a continual reminder of the Asian crisis, undeniably eerie in their own right. If you're interested in architecture beyond the spectacular Thai temples, then the ghost buildings are definitely worth viewing – you can see them on a river cruise of Bangkok quite easily. I wrote about the ghost buildings, complete with photos, last September in my Ballardian Bangkok article, which shows some of Bangkok's more dystopian architecture.
Quite what will happen to these buildings is anyone's guess. They are all pretty much structurally unsound now, and probably need to be demolished, but because they occupy such prime areas of real estate, there are a lot of arguments about who should pay for the land to be cleared. And of course, the longer the ghost building is left on the land, the more valuable the land becomes. Right now they're just one more part of Bangkok's ever changing landscape and a visible warning from the past.