The Asus eeePC has a 7″ inch screen, a full keyboard, wifi access, weighs less than 2kg and costs less than $US 400. It could be the perfect laptop to go travelling with
Asus released the EeePC about six months ago – here in Thailand, it was long anticipated because it's the first computer that's at an affordable price point for many students (they even got an extra discount which was nice). You might not expect much from a computer priced at less than $400 on Amazon.com, but the Asus EeePC has been a universal hit to critics and the public alike across Asia, Europe and America, thanks to its tiny size and full capabilities. It's sold a staggering 1 million units since launch.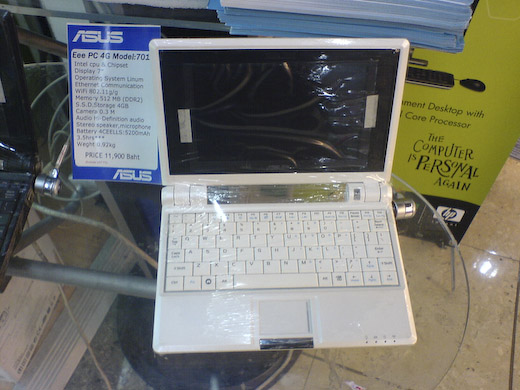 Asus eeePC
For travellers, the Asus EeePC solves a lot of the common problems of going travelling with a laptop – no hassle with the weight of lugging it around as it's so light, and it's cheap enough to almost not worry about losing it or accidentally trashing it (although, of course, you wouldn't want to). Travelhappy contributor Greg Lowe has been using the Asus EeePC since it came out for day and found it to be a solid unit, although he cautions that for those with larger hands, the keyboard might still be too small. Windows XP can be installed on the machine and therefore you can run all your normal apps as well.
With the success of the Asus EeePC, it's not surprising that other laptop manufacturers are entering this market. HP have released the MiniNote which retails around $500, while Dell are also said to be preparing a Asus rival later this year.
For their own apart, Asus have just released a 9 inch screen version of the Asus EeePC – the EeePC 900 – which will retail at 399 Euros apparently. I think I might get myself one of these for travelling as I like to store and edit photos on my trips and the 7 inch screen would probably be a bit too small for image editing. The price point however might be too expensive — $600 US would be the equivalent of 399 Euros – and the 7 inch screen version of the EeePC might have a price crash when the 9 inch comes out, making it even more of a bargain.
Over the next year, I think this area of computing is going to get very interesting with more and more competitors entering the fray and trying to stay under the $500 price point. That is good news for travellers who want to take a laptop with them without the traditional grief of carrying one of the bigger, more traditional models.
Latest Asus EeePC auctions on Ebay:
[phpbay] Asus eeepc, 30, Z177 [/phpbay]