When I first when travelling in 2003, iPods were still a rarity on the backpacker circuit. Hard to believe now, given their ubiquity, and the fact that over 100 million iPods have been sold worldwide since they were launched in November 2001.
I bought my first iPod in November 2002, a month before I left the UK in December. It took me a whole rainy day in London to burn all 400 of my CDs onto my computer and then put them onto the iPod, but I really didn't mind the chore of doing it – I was still stunned that I was going to be able to take my entire record collection which had been assembled over the previous 15 years travelling with me, on a shiny object no bigger than a pack of cigarettes. I think the iPod is the first and still the only time that I have bought a piece of technology and consciously, at the time, thought to myself: "This is revolutionary".
Not buying an iPod until a year after its original launch, I can't claim to be an early adopter of the iPod in knowledgable geek circles. But certainly amongst travellers the iPod hadn't caught on much by 2002 or 2003 for that matter – everywhere I went in Australia, using my iPod on buses and trains turned out to be a great icebreaker, as other backpackers would want to find out about it and play with it. And lots of them were hot women. This was the first time technology had brought me hot women. Real ones, anyway.
Indeed, it was almost always girls who tended to be more interested in playing with the iPod, and the tactility of the design seemed to be as much a part of that as the actual wizardry of having all your music on there. (Sadly this is the point where I lost the interest of quite a few of the hot women as they inexplicably recoiled from listening to the likes of Motorhead). This was perhaps the first time I'd ever seen such a radical demonstration of form being, if not everything, then certainly a huge factor in attracting someone's attention to begin with.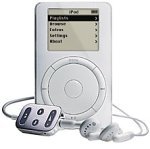 Back then, CDs were still de rigeur, with travellers lugging around ever increasing CD wallets full of CDRs from home and dodgy bootleg stalls in Bangkok and elsewhere. The more space savvy had started using MiniDisc, but the convenience of its small size was tempered by the relative difficulty of getting new music on there. (That wasn't a problem for my iPod as, cunningly, I had gone travelling with a laptop as well).
The tipping point for me for moving from CD to MP3 completely came when I desperately wanted the then new Massive Attack album 100th Window while I was travelling in Australia. I bought the CD, ripped it on my laptop and put it on my iPod – and then gave the CD away the same day so I wouldn't be carrying the dead weight. I don't think I've bought a CD since. The notion now of buying music as a physical artifact with a sleeve and so on seems decidedly quaint – and while there's a case for arguing that it would be a shame to lose the creativity of cover art, I think there's a better argument that artists should start thinking of better ways to present their music in the digital world with virtual album sleeves and so on.
Perhaps the greatest miracle in travelling with my iPod for 18 months solid was that I didn't break it. The 2nd generation iPod that I travelled with only needed one good smack to become an ex-iPod – and given my luck with laptops, it would seem the most fragile technological item in my backpack was predestined to get trashed fairly sharpish. I had used a bit of common sense and kept the iPod in a old camera pouch for protection, and generally didn't use it except for on journeys – wandering around streets wearing it seemed dangerous, not due to muggings, but because crossing the road somewhere like Bangkok you need eyes in the back of your head and all your senses functioning on what you're doing.
Eventually I upgraded to a 3rd generation model, just before the iPod went colour – d'oh! – but I still marvel at how slimline the new version is compared to my old one… which is now a paperweight. The iPod is everywhere now, and while its popularity is testament to its universal appeal, the sense of wonder about the huge leap from CD to MP3 has inevitably been lost. The speed of change makes it easy to forget it wasn't always so.