Today Vietnam's capital Hanoi celebrates its 1000th birthday, and kickstarts 10 days of official celebrations.
I've long been a fan of Hanoi, having visited the city six times since I first saw it whilst backpacking in 2003. The mix of culture, colonialism and spectacular food continually draws me back, even as the city gets bigger and more congested.
Today is Hanoi's 1000th birthday since it was founded: "King Ly Thai To moved the capital of Vietnam from Ninh Binh to Hanoi in 1010 and called it Thang Long, or "soaring dragon".
In the 19th century, King Gia Long transferred the seat of government to Hue in the centre of the country, but the Red River Delta city of Hanoi regained its role as capital in 1945 when founding President Ho Chi Minh declared independence from French colonisers."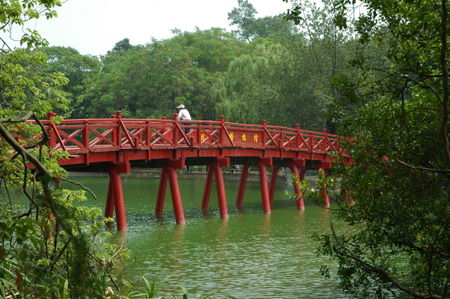 The bridge to Ngoc Son Temple on Hoan Kiem Lake
But while it's a worthy occasion to be celebrated, many Hanoians are unhappy at the amount of money being lavished on the festivities when the city is in dire need of major infrastructure improvements, as explained in this Independent article.
That said, Hanoi is still a magical if chaotic place for tourists to visit, as I've written about several times. Below are links to my posts about Hanoi, along with some of the more popular posts about Vietnam in general. Don't Miss: Hanoi, Vietnam is probably the best one to read if you want a flavour of what the city is like, and the rest are more practically focussed on hotels and good restaurants.
And some more posts about Vietnam in general which might be useful: