While most people come to Exmouth to see the whale sharks and the other amazing sea life in Exmouth Gulf and the Indian Ocean, the desolate landscape around Exmouth also holds a wealth of surprises too.
On the half hour ride in from the airport, you'd be forgiven for thinking Exmouth's surrounding countryside is a largely flat, monotonous expanse of red earth and grasses, with not much of interest. But if you go on a 4 wheel drive tour of the area with a knowledgable guide, you'll discover that the arid landscape is filled with life and history – not to mention some pretty spectacular views too. We did a day long tour with Ningaloo Safari Tours, who have been running daytrips into the Exmouth outback for the last 20 years. Kim, our guide and driver, turned out to be Exmouth born and bred, although he'd spent a fair amount of time travelling around too, both abroad and in Australia. Kim's extensive knowledge of the local flora and fauna and of all the dramatic stories and legends of Exmouth's past was what essentially made the day, as he was able to point out numerous things that visitors would otherwise miss.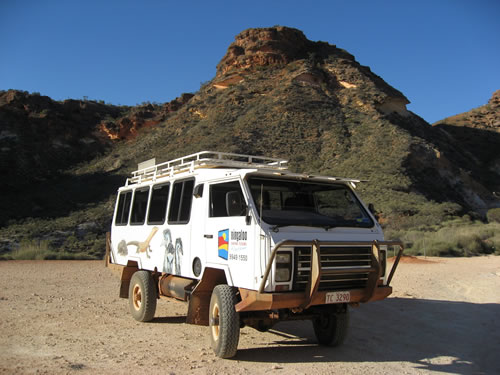 Oka 4 Wheel Drive Outback Truck
Driving up through Shothole Canyon first thing in the morning, there's barely any sense of ascent, until you climb a few steps at the road's end and are suddenly looking down into a huge gorge below, where the hills open up and lead your eye straight back to the sea. This area is notorious for flash floods, and the power of the water when it comes down through this normally bone dry region is demonstrated by the way the limestone rocks have been carved out by the oncoming rush of water. It's a craggy and dramatic landscape that's matched by Charles Knife Gorge, which has a great view out over the surf breaking over Ningaloo Reef. Navigating the rough terrain of Charles Knife Gorge in the big Oka four wheel drive vehicle – like a rollercoaster in slow motion – takes you into what feels like the middle of the outback, with emus and kangeroos and plenty of man-sized termite mounds all around. By way of complete contrast, Yardie Creek is a tranquil, calm watered gorge with beautiful red stone walls where you can boat right in and see rock wallabies, parakeets and big golden orb spiders hanging in webs that are stronger than steel.

Yardie Creek
Exmouth's entire geography is shaped by the connection of the land with water, whether it's rainfall, creeks or the ocean, and there are numerous excellent beaches to visit along the ocean-following Yardie Road, several at which you an stop at for snorkelling and lunch. If you watch carefully, you'll be able to see turtles breaking the surface as they come up for air. Turquoise Bay is a beautiful bay with lots of coral that makes for good snorkelling, although you do need to be aware of strong currents and check with the Milyering Visitors Centre about the day's sea conditions. Also along Yardie Road is Shark's Tooth Ridge, which has a fossil of the tooth of the world's biggest shark, the megalodon. It's amazing to be able to see this piece of history of which is millions of years old still in situ within the rocks of the ridge – although, of course, you need to know where to go to find it, and the locals are justifiably wary of the tooth being stolen. Two more examples of the teeth have already been taken and stored in Perth's West Australia museum.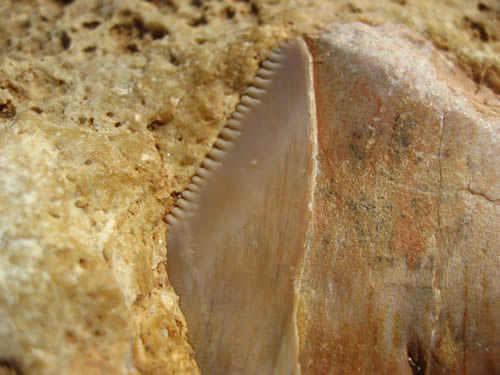 The still serrated edge of a megalodon shark tooth at Shark Tooth Ridge
The town of Exmouth itself first came into existence in the 1960s to support the US Naval Base that was built on the Gulf Of Exmouth. Most of the 3000 US troops originally stationed here have left now, but the huge radio masts which can transmit at super low frequencies to US submarines remain and are still operational – apparently they are the highest radio masts in the world, with the tallest, Tower Zero, being some 127 feet high. (There are 13 masts but apparently in a fit of superstition they decided avoid calling any of them Tower 13 – hence Tower Zero). Exmouth's population remains at around 2000 people, and there are still no traffic lights at all around the town.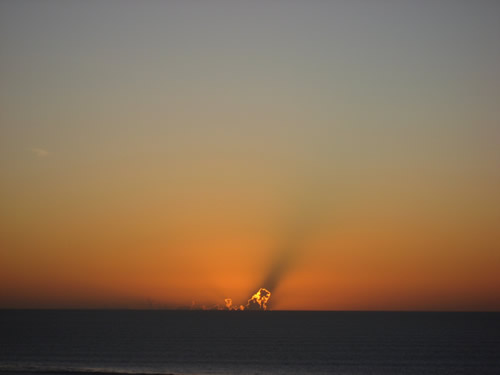 Exmouth sunset
A day tour ends at Exmouth's lighthouse, a perfect place to see the sunset over the ocean and look out over the town and massive radio masts too. From up on the lighthouse hill, there's a fresh sense of just how big the outback is surrounding Exmouth and how tiny the town is, even as it continues to develop thanks to the steady influx of tourists each year. There's also a majestic sense of the size of the ocean next to which Exmouth clings to the land – seeing the sun go down over the vast, uninterrupted horizon of the sea with not a single boat or any other man made thing out there is quite spectacular. It's also a great ending to an entertaining and eye opening day, that lets you see the Australian outback with fresh eyes. If you go to Exmouth, I'd definitely recommend doing it.