Make exploring Bangkok easy with these in-depth itineraries and guides on where to go, what to see, what to eat and where to stay.

image © Joe Stump
You can see many of Bangkok's iconic attractions in the space of a day, plus sample some great food and enjoy the nightlife too.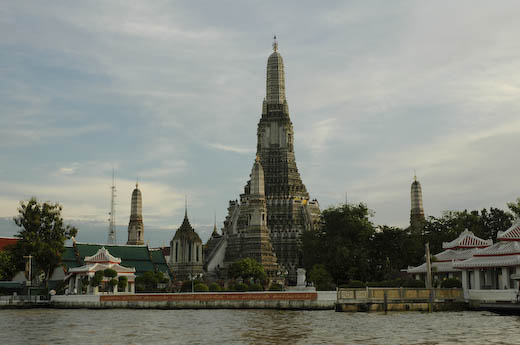 image © CM
Here's 55 ways to make your visit to Bangkok much easier and fully enjoy this chaotic but fascinating city

image © Mike Behnken
From temples and museums to shopping malls and outdoor markets, Bangkok has more than enough to keep you occupied for 3 days in Bangkok.
image © Didier Baertschiger
With just 2 days in Bangkok you still have time to enjoy its impressive cultural sites as well as its fine selection of shopping and dining.
image © Peter Hellberg
Need to know where to change money in Bangkok? Here's a comprehensive rundown of the best currency exchanges in Bangkok to get the best exchange rate.
image © Ninara
Choose where to stay in Bangkok carefully to get maximum enjoyment from your visit. Here's our comprehensive guide on where to stay in Bangkok.
image © Official Movie Poster
Retrace the accidentally debauched steps of the Wolfpack in Bangkok for yourself with Travel Happy's Location Guide to The Hangover Part II
image © Mike Behnken
Your first time in Bangkok can be a little overwhelming, with our guide find out what you need to know before you arrive.
image © Saranya Chawanrattanasakul
Bangkok is an affordable city but costs can add up. Our guide will help you understand how much money you will need for Bangkok.
image © David McKelvey
From temples to sky-high bars there are plenty of things to do in Bangkok. It's vibrant, busy, cultural and historic. Not sure where to start? Read on.
Check for the cheapest flights to Bangkok on
Skyscanner
– compare airline prices instantly
image © Harsha K R
Bangkok is notorious for its gridlocked traffic, but getting around Bangkok is easy if you think ahead a little bit and plan your route.
aimage © Travel Happy
Bangkok has a rapidly expanding mass transit system to help you get around the city quickly. View our Bangkok BTS and MRT map to plan your trip
image © mattmangum
Choose from a variety of Bangkok street stalls, open-air markets, and exclusive restaurants.
image © Robert Brands
Discover the most interesting Bangkok areas with our Bangkok district guide. Find the best things to do, where to stay and what to eat
Check Bangkok hotel availability and pricing on
Booking.com
– book now, pay later
image © KhunBhun
Bangkok shopping malls range from tiny and crowded to big and luxurious, making the city a great shopping destination.
image © Prachanart Viriyaraks
Exploring the city's smaller and less known temples is a great way to see a side of Bangkok that most visitors never get to witness.
image © KamrenB Photography
Bangkok has two airports – Suvarnabhumi Airport (BKK) and Don Mueang Airport (DMK). Read on to find out which airport you'll need for your Bangkok trip.
image © Walter Lim
There are hundreds of Bangkok markets, ranging from the small and specialised to gigantic markets selling everything from antiques to pets.
image © James Antrobus
Songkran is the world's biggest friendly water fight, bringing Thailand to a halt for three days. Here's how to get the most out of Songkran in Bangkok
image © Sugree Phatanapherom
From beaches to ancient cities, a range of interesting day trips from Bangkok are located within a hour or two of the city.
image © CM
How to apply in person for a Vietnam visa at the Vietnamese embassy in Bangkok
image © yngvar
While most visitors spend a few days in the capital before travelling elsewhere in Thailand, it's far from challenging to spend a week in Bangkok taking in all that the city has to offer.