Bangkok has a rapidly expanding mass transit system to help you get around the city quickly. View our Bangkok BTS and MRT map to plan your trip and read our Quick Guides to each Bangkok area to help you decide where to go.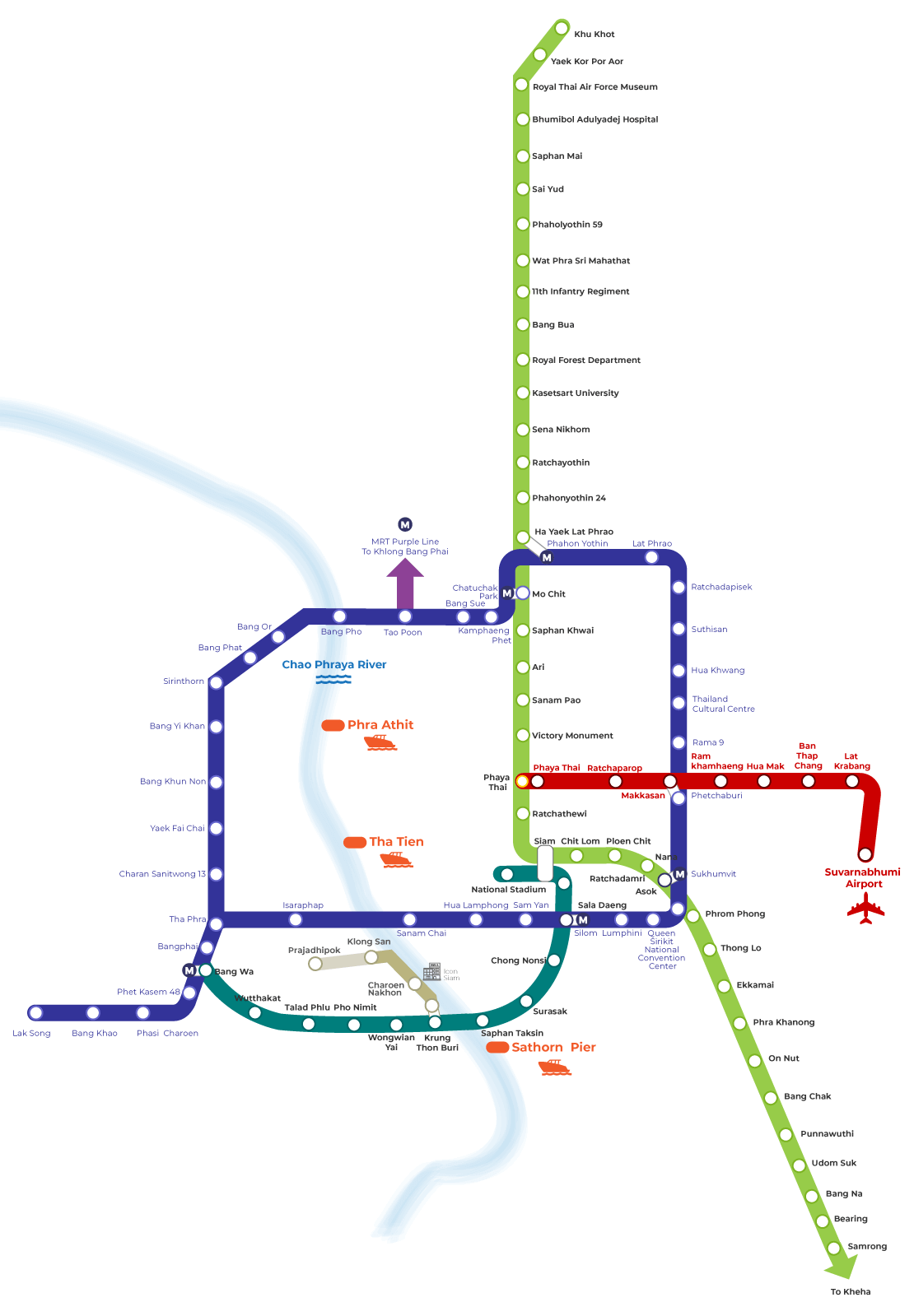 This page last updated 17 August 2023
How To Use The Bangkok Skytrain and MRT
The Bangkok Skytrain (known as the BTS) and the Bangkok Subway (known as the MRT) are the two most convenient ways to travel around Bangkok.
The BTS and MRT are independent transport networks. That means you need to buy separate tickets if you change between the two systems. At the moment you can't use the same ticket on both networks. There is a third network, the Airport Rail Link (ARL) which is also independent and requires its own ticket. In 2022, a fourth network, the Dark Red Line SRT, became operational. In June 2023, a fifth network, the Yellow Line MRT, became operational.(Note: the Dark Red Line SRT and Yellow Line MRT are not shown on the map above).
Tourists are most likely to use the BTS Skytrain and MR the most as it covers the central areas of Sukhumvit, Silom and Sathorn, and Siam Square.
Buying Tickets For The Skytrain – How To Skip The Queues
You can buy a BTS prepaid card online to avoid having to queue up to buy a ticket at the station. It's a real time-saver because the BTS system can get very busy with long queues. The BTS prepaid card is called the BTS Skytrain Rabbit card. You can buy the BTS Rabbit card online at Klook and collect at Suvarnabhumi Airport on arrival. Unfortunately it's not possible to pre-purchase an MRT card at the moment. However, on the MRT, you can tap with your contactless credit or debit card to go through the barriers – no need to buy a ticket. This currently only works on the MRT and not the BTS.
Pro Tip: Make Sure You Book a Bangkok Hotel Near The Skytrain or MRT
When you look to book a hotel in Bangkok, check the hotel's location on the map. (Booking.com and Agoda.com both have a map on every individual hotel page to show its location and what's around it). Make sure it is near to a Skytrain station for maximum convenience. Walking for a long time in the heat over Bangkok's crazy paving sidewalks is not ideal.
Suvarnabhumi Airport to Bangkok On The Airport Rail Link
You can get direct from Suvarabhumi Airport to Bangkok city centre by using the Airport Rail Link. (The Red Line on the BTS map). From the Arrivals area at Suvarnabhumi Airport, follow the signs down into the lower levels of the airport. There you can board the train.
The Airport Rail Link takes you to Phaya Thai BTS station. You then either leave the station to stay in the Phaya Thai area, or buy a ticket to go onto the BTS train system and continue to your final destination. You can change onto the MRT subway from the BTS line at Asoke station or Mo Chit station.
You can compare prices and timings of flights to Bangkok if you're currently planning your trip.
Suvarnabhumi Airport Taxis
The BTS Skytrain and the MRT are both excellent, state-of-the-art transport systems. However, if you have a lot of luggage with you, you may wish to get a taxi instead as the airport link train, Skytrain and MRT are often crowded, and it can be a real hassle dragging suitcases through the various long connections between the systems.
You can book a private airport transfer from Suvarnabhumi Airport, as well as queuing for a public taxi on Level 1 or catching a public bus into Bangkok city centre. See our Bangkok Airports Guide for more information.
Don Mueang Airport to Bangkok on the Dark Red Line SRT
If you don't mind doing some walking, you can catch the Dark Red Line SRT from Don Mueang Airport. The SRT station is not located in the airport terminal. You need to follow the signs and walk about 10 to 15 minutes out of the terminal across to Don Mueang station. You then catch the SRT which will take you to Bang Sue station at Krung Thep Aphiwat Central Terminal (also known as Bang Sue Grand Central station). From there you can cross over to the MRT and go on to your final destination, or transfer onto the BTS Skytrain from one of the MRT stops.
It can be more convenient to simply catch a taxi, whether it's a Don Mueang private airport transfer or a public taxi. See our Bangkok Airports Guide for more information.

Wat Arun at dusk, Bangkok © chris @travelhappy.info
BTS and MRT Stations near Bangkok Attractions
Bangkok historically began by the river, and then expanded from there into the sprawling megacity you see today. That's why so many of Bangkok's unique sights are located by the Caho Phraya river. The MRT stop Sanam Chai gives tourists easy access to iconic Bangkok attractions like the Grand Palace and Wat Po temple within the historic royal island of Rattanakosin and also the Bangkok Riverside. Don't miss out exploring these areas!
Here's a list of other Bangkok attractions near to a BTS or MRT stop:
Bangkok Skytrain Lines And Bangkok MRT Lines
There are currently 2 main Skytrain lines:
the light green Sukhumvit line that runs from Khu Khot to Kheha.
the dark green Silom line that runs from Bang Wa to National Stadium
There is also the very short Gold Line, which opened in December 2020. This connects the Silom line to the Icon Siam shopping mall. You can also get to Icon Siam by travelling to Saphan Taksin BTS and then taking the free Icon Siam ferry boat to Icon Siam. The Gold Line currently has two stops, ending at Klong San. It will be eventually extended with one more station – Prajadhipok.
There are currently 4 MRT lines:
The Airport Rail Link (Red Line) runs from Suvarnabhumi Airport to Phaya Thai BTS station.
As of 2022, the Dark Red line has begun operating. This runs from Bang Sue Grand Station to Rangsit. There is a stop near to Don Mueang Airport station, but it is not integrated directly into the airport terminal.
Bangkok River Ferries
You can change from the BTS to catch a river ferry at Saphan Taksin BTS station. The river ferry has numerous stops – for tourists, Tha Tien pier is useful as it's right by the Grand Palace and Phra Athit pier is right by Khao San Road (a five minute walk away).
Changing Between BTS and MRT
You can change from the BTS to MRT at intersection stations – simply exit one station and walk into the other station. Intersection stations are: Asoke BTS / Sukhumvit MRT, Sala Daeng BTS / Silom MRT, Mo Chit BTS / Chatuchak MRT and Ha Yaek Lat Phrao BTS / Phahayolthin MRT.
Changing Between Airport City Link ARL and BTS
The Airport Rail Link (red line) runs from Suvarnabhumi Airport to Phaya Thai BTS station.
You can then change onto the BTS and continue your journey.
To change from the Airport Rail Link to the MRT, get off at Makkasan station and walk through to Petchaburi MRT via the connecting Skywalk.
Bangkok Area Guide
Bangkok has numerous areas of interest to tourists – see our Quick Guides to each Bangkok area to help you get a sense of what you can find in each district.
Bangkok Itineraries