Bangkok has a rapidly expanding mass transit system to help you get around the city quickly. View our Bangkok BTS and MRT map to plan your trip and read our Quick Guides to each Bangkok area to help you decide where to go.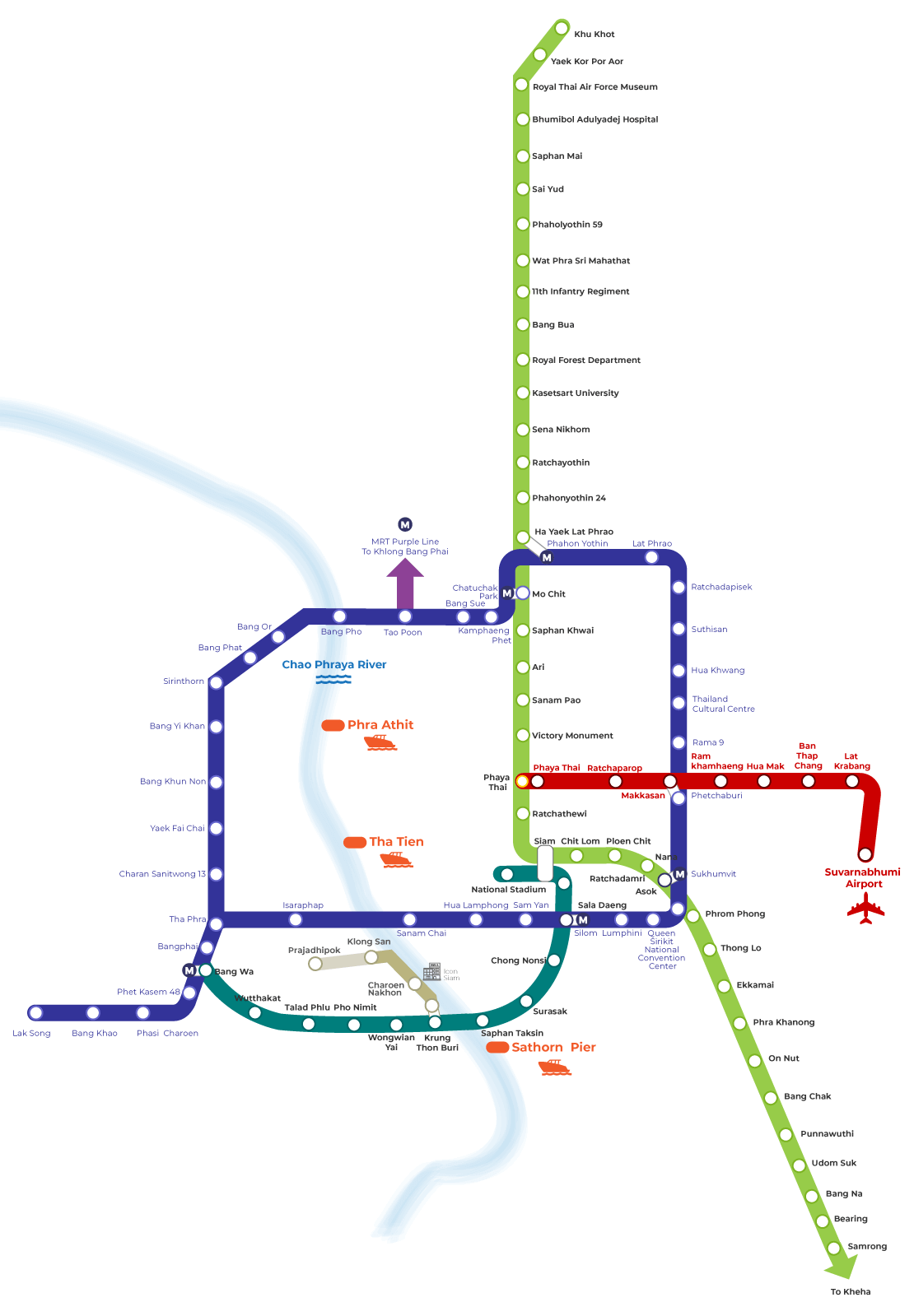 This page last updated 13 January 2021
How To Use The Bangkok Skytrain and MRT
The Bangkok Skytrain (known as the BTS) and the Bangkok Subway (known as the MRT) are the two most convenient ways to travel around Bangkok.
The BTS and MRT are independent transport networks. That means you need to buy separate tickets if you change between the two systems. At the moment you can't use the same ticket on both networks. There is a third network, the Airport Rail Link (ARL) which is also independent and requires its own ticket.
Tourists are most likely to use the BTS Skytrain the most as it covers the central areas of Sukhumvit, Silom and Sathorn, and Siam Square.
Suvarnabhumi Airport to Bangkok MRT
You can get direct from Suvarabhumi Airport to Bangkok city centre by using the Airport Rail Link. From the Arrivals area at Suvarnabhumi Airport, follow the signs down into the lower levels of the airport. There you can board the train. The Airport Rail Link takes you to Phaya Thai BTS station. You then either leave the station to stay in the Phaya Thai area, or buy a ticket to go onto the BTS train system and continue to your final destination. If you have a lot of luggage with you, you may wish to get a taxi instead as conditions
New Bangkok MRT Stations
In August 2019, the MRT Subway opened a new station at MRT Sanam Chai. This new MRT stop gives tourists easy access to iconic Bangkok attractions like the Grand Palace and Wat Po temple within the historic royal island of Rattanakosin and also the Bangkok Riverside. Don't miss out exploring these areas! See Things To Do In Bangkok for more ideas of where to go and how to spend your time.
Buying Tickets For The Skytrain – How To Skip The Queues
You can buy a BTS prepaid card online to avoid having to queue up to buy a ticket at the station. It's a real time-saver because the BTS system can get very busy with long queues. The BTS prepaid card is called the BTS Skytrain Rabbit card. You can buy the BTS Rabbit card online at Klook and collect at Suvarnabhumi Airport on arrival.
Bangkok Skytrain Lines And Bangkok MRT Lines
There are currently 2 main Skytrain lines:
the light green Sukhumvit line that runs from Khu Khot to Kheha.
the dark green Silom line that runs from Bang Wa to National Stadium
There is also the Gold Line, which opened in December 2020. This connects the Silom line to the Icon Siam shopping mall. You can also get to Icon Siam by travelling to Saphan Taksin BTS and then taking the free Icon Siam ferry boat to Icon Siam. The Gold Line currently has two stops, ending at Klong San. It will be eventually extended with one more station – Prajadhipok.
There are currently 2 MRT (underground) lines:
the MRT Blue Line runs underground from Bang Sue to Lak Sang. This is the MRT line of most interest to tourists as it covers some central locations.
the MRT Purple Line which runs from Tao Poon to Khlong Bang Phai which is mainly to serve the greater Bangkok suburbs.
The Airport Rail Link (Red Line) runs from Suvarnabhumi Airport to Phaya Thai BTS station.
Bangkok River Ferries
You can change from the BTS to catch a river ferry at Saphan Taksin BTS station. The river ferry has numerous stops – for tourists, Tha Tien pier is useful as it's right by the Grand Palace and Phra Athit pier is right by Khao San Road (a five minute walk away).
Bangkok Travel Tips
If you're arriving or departing Bangkok at Hua Lamphong railway station, the MRT connects right into the station – very convenient.
The nearest MRT station to Khao San Road is Sanam Chai MRT station. Sanam Chai is also very near the Grand Palace and Wat Po within the royal island of Rattanakosin and Bangkok riverside.
Changing Between BTS and MRT
You can change from the BTS to MRT at intersection stations – simply exit one station and walk into the other station. Intersection stations are: Asoke BTS / Sukhumvit MRT, Sala Daeng BTS / Silom MRT, Mo Chit BTS / Chatuchak MRT and Ha Yaek Lat Phrao BTS / Phahayolthin MRT.
Changing Between Airport City Link ARL and BTS
The Airport Rail Link (red line) runs from Suvarnabhumi Airport to Phaya Thai BTS station.
You can then change onto the BTS and continue your journey.
To change from the Airport Rail Link to the MRT, get off at Makkasan station and walk through to Petchaburi MRT via the connecting Skywalk.
Bangkok Area Guide
Bangkok has numerous areas of interest to tourists – see our Quick Guides to each Bangkok area to help you get a sense of what you can find in each district.
Bangkok Itineraries