While no visit to Bangkok is complete without visiting the city's most iconic temples, exploring the city's smaller and less known temples is a great way to see a side of Bangkok that most visitors never get to witness.
Grand Palace lit up in the heart of Bangkok © Prachanart Viriyaraks
From traditional Thai temples to fertility shrines, Chinese Buddhist temples to Dravidian style Hindu wats, Bangkok is home to hundreds of different historical temples. Here's our pick of some of the most interesting Bangkok temples to visit.
Check for the cheapest flights to Bangkok on
Skyscanner
– compare airline prices instantly
Temples Near Rattanakosin and Riverside

Wat Phra Kaew © Edwin Lee
Wat Phra Kaew, known in English as the Temple of the Emerald Buddha, is widely regarded as Thailand's most sacred Buddhist temple. The temple houses a 30 inch Emerald Buddha statue, which was built in 43 BC according to legend.
Bangkok Holiday Essentials
Located inside the Grand Palace complex, Wat Phra Kaew is one of the most popular temples in Bangkok. The temple itself was built in 1784 by order of Rama I after Siam's capital moved from Thonburi to Bangkok.
Line of Buddha statues – Wat Pho © Earth-Bound Misfit, I
Check Bangkok hotel availability and pricing on
Booking.com
– book now, pay later
Located within walking distance of the Grand Palace, Wat Pho is Bangkok's largest temple and one of its most popular tourist attractions. Known as the Temple of the Reclining Buddha, Wat Pho houses a 46 metre long gilded reclining Buddha statue.
Wat Pho is one of Bangkok's oldest Buddhist temples. The temple itself was built before the city of Bangkok was founded. Wat Pho contains one of Thailand's oldest massage schools, which offers Thai massage treatments and instructional courses for visitors.
Temple of Dawn Wat Arun © Mark Fischer
Located across the Chao Phraya River from the Grand Palace, Wat Arun, known in English as the Temple of Dawn, is one of Bangkok's most well-known landmarks and a popular stop for people visiting the Grand Palace and Wat Pho.
Wat Arun is accessible from Tha Tien Pier near Wat Pho. Board the cross-river ferry to get to the other side of the Chao Phraya. The temple houses the remains of King Rama II, who was responsible for restoring the temple during the early 19th century.
Wat Mahathat © Allie_Caulfield
Known in English as the Temple of the Great Relic, Wat Mahathat is located close to Sanam Luang and north of the Grand Palace. This large Buddhist temple is home to a Buddha image and a Vipassana Meditation centre, with several classes available in English.
In addition to the Vipassana Meditation centre, Wat Mahathat contains several fortune tellers who can offer insight into your future. The temple is a short walk from the Grand Palace and Tha Chang Pier.
Wat Saket (Golden Mount) © Jason Eppink
Better known as the Golden Mount, Wat Saket is Bangkok's only hilltop temple. Built on the grounds of a collapsed 19th century chedi, Wat Saket offers excellent views over Bangkok from its hilltop location.
Wat Saket is a long walk from the Grand Palace and other sights in Rattanakosin, making it a better idea to take a taxi than to talk. The temple is a short distance from Phanfa Leelard Pier, making it easy to access via the Khlong Saen Saeb Express Boat from Sukhumvit.
Wat Suthat © Nicolas Lannuzel
One of 10 first grade royal temples in Bangkok, Wat Suthat is one of Bangkok's most visually impressive and least crowded temples. The temple contains two important Buddha statues: Phra Buddha Trilokachet and Phra Buddha Setthamuni.
Outside Wat Suthat, you'll find the Giant Swing — a 21 metre swing that was used in Brahmin religious ceremonies until the mid 20th century. Wat Suthat is frequently used for meditation during the day but remains open for visitors from 8:30 am until 9 pm.
Wat Ratchanatdaram © Ronan Crowley
Located a short distance from Wat Saket, Wat Ratchanatdaram is a unique temple built in 1846 that features 37 distinctive metal spires. The large spires symbolise the 37 values of enlightenment. Wat Ratchanatdaram is currently under renovation but still open to the public.
Wat Benchamabophit © Ian Gratton
Wat Benchamabophit, also known as The Marble Temple, is located a short distance from the temples of Rattanakosin in Dusit. One of Bangkok's most aesthetically impressive temples, Wat Benchamabophit was designed by Thai Prince Naris and completed in 1911.
Wat Benchamabophit features several decorative lion statues and contains the Buddha image Phra Buddhajinaraja, which was completed in 1920.
Temples Near Yaowarat (Chinatown)
Chinatown Wat © Heidi De Vries
Wat Mangkon Kamalawat is a Chinese-style Buddhist temple that's one of Bangkok's centres of Chinese culture. Founded in 1871, Wat Mangkon Kamalawat is located a short walk from Bangkok's Chinatown off Charoen Krung Road.
Wat Mangkon Kamalawat's unique Chinese architecture makes it a nice variation from the traditional Thai Buddhist temples in Bangkok. The temple contains a Chinese Buddha image and statues of the Four Heavenly Kings.
Wat Traimit © Karl Baron
Wat Traimit, known as the Temple of the Golden Buddha, houses the world's largest solid gold Buddha image. The 15 foot statue weighs more than five tons and contains more than $250 million worth of 83% pure gold.
Several hundred years ago, the statue was covered in plaster in order to protect it against thieves. The incredible gold statue was discovered in 1955, after workers accidentally broke away a thick layer of stucco on its surface while transporting it from the temple.
Wat Chakrawat
Although it's not Bangkok's most remarkable temple, Wat Chakrawat is worth a visit if you're in the Yaowarat area. A short distance from Ratchawong Pier, Wat Chakrawat is home to a Buddha footprint shrine, a collection of crocodiles and a small reclining Buddha statue.
Temples Near Ratchaprasong and Sukhumvit
Surrounded by two of Bangkok's largest shopping malls, Wat Pathum Wanaram looks a little bit out of place in the mega-commercial district of Ratchaprasong. Opened in 1857 by Rama IV, the temple contains the ashes of the family of Prince Mahidol Adulyadej.
Despite its location close to some of Bangkok's most popular malls, Wat Pathum Wanaram is exceptionally quiet, making it a wonderful break from the hustle and bustle of Ratchaprasong and Bangkok as a whole.
Penis Shrine © Jason Eppink
Known in English as the Penis Shrine, Chao Mae Tubtim is a luck and fertility shrine located close to the Swissotel Nai Lert Park Hotel on Wireless Road. The shrine, which is made up of several large phallus statues, also contains a Buddhist spirit house.
Temples Near Silom, Sathorn and Rama III
Wat Yan Nawa © Dsin Travel
Located close to BTS Saphan Taksin, Wat Yan Nawa is a Buddhist temple with an interesting prayer hall built in the shape of a Chinese junk. The temple is well known for its acupuncture and traditional Chinese medicine centre, which is open to both Thai locals and tourists.
Wat Hua Lamphong © Mark Fischer
Located a short walk from BTS Sala Daeng, Wat Hua Lamphong is a popular Royal temple that houses a large crematorium. Popular with locals that live and work in the Silom area, the temple also contains a collection of Buddha images and historical paintings.
Temple © John
Wat Khaek (Sri Maha Mariamman Temple)
Sri Maha Mariamman Temple, known as Wat Khaek in Thai, is a colourful Hindu temple that's located on Silom Road. One of several Hindu temples in Bangkok, Wat Khaek is dedicated to Goddess Mariamman, the South Indian Hindu Goddess of Rain.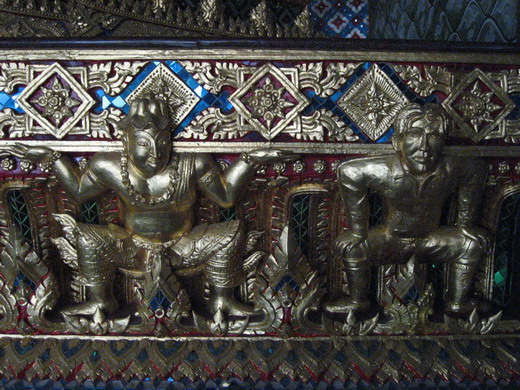 Temple © Chris Mitchell
Wat Pariwat (David Beckham Temple)
Most of Bangkok's Buddhist temples contain Buddha images and statues. Wat Pariwat breaks tradition somewhat with its collection of pirate and cowboy statues. Known as David Beckham Temple, Wat Pariwat also contains a small golden image of David Beckham set into one of the temple altars. You can read more info about the statue, temple and how to get there on this Travelhappy page about the David Beckham temple.