Every Friday, a new photo of amazing Asian people and places here on Travelhappy. This week – the Reclining Buddha of Laos' Buddha Park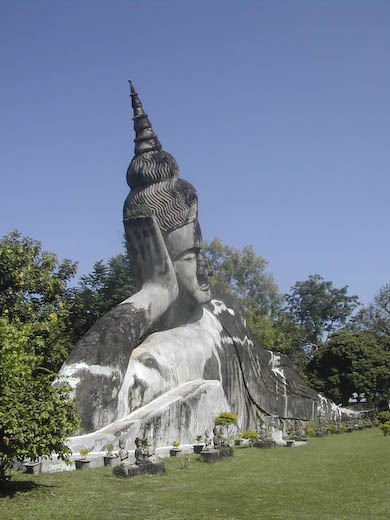 About a half hour's drive outside Vientiane, the sleepy capital of Laos, lies Xieng Khuan, or Buddha Park, where over 200 religious statues, including the gigantic 40 metre long reclining Buddha depicted above, can be found.
Wikipedia says "The park was built in 1958 by Luang Pu (Venerable Grandfather) Bunleua Sulilat. Luang Pu Bunleua Sulilat was a priest-shaman who integrated Hinduism and Buddhism and later fled from Laos to Thailand after the revolution in 1975. There, he built another sculpture park, Sala Keoku in Nong Khai." I've written about Sala Keoku before on Travelhappy, although I haven't been there yet.
Wandering around the statues is a deeply surreal experience – it's a riot of different dieties from religious myth, some of which are very big and scary looking indeed. The way the statues are all jumbled together in a fairly small space, almost spilling over one another, just adds to the sense of glorious disarray. For me, the Reclining Buddha was the definite highlight – even though it's built of unadorned concrete, it has a real grace to it despire its size. It's a worthy peer to the amazing Reclining Buddha of Wat Po in Bangkok and the Giant Reclining Buddha of Yangon in Burma, as well as the Sukhothai Reclining Buddha in Kamphaeng Phet in Thailand.
I was joined by a Laotian monk who led me around the statues and tried to explain some of their significance to me, which was great fun but quite hard work for both of us I think. I bought him lunch – my first bowl of delicious pho in Laos – by way of saying thankyou.
I'd met the monk on the bus ride out from Vientiane, as he was heading back to his temple. I originally had a window seat on the packed bus with no one sitting next to me. The monk motioned for me to get up and let him sit by the window and I should sit in the aisle seat. I thought at first this was a little rude, but I wasn't going to argue with a monk. As we set off, I soon realised he'd deliberately helped me – those people sitting by the window got the full glare and heat of the sun in the non-air-con interior as we bounced down the dusty road towards the park. How glad was I that I'd kept my mouth shut…