Singapore is renown as a haven for electronics bargains, but can you find an iPod Touch there at a cheaper price than back home
Sim Lim Square in Singapore is the city's most famous IT mall, packed with electronics shops where great bargains can be found on laptops and cameras and the like if you know what you're looking for and can haggle a little. However, the cost of an iPod Touch in Singapore is still more expensive than the USA and the UK. As I've noted before, it's hard for anywhere in Asia to beat the USA on electronics prices because it's such a big market. Even Canon cameras which are made in Japan are more expensive in Japan than the USA where they're imported! That's not to say that bargains in Asia don't exist, just that it is definitely not a given that electronics items will be cheaper in Asia.
16 GB iPod Touch is currently S$ 698 Singapore Dollars, which is around 481 US Dollars. That's still nearly 90 dollars more expensive than the
Amazon.com price of $369. The
Amazon.co.uk price is £229 , which is roughly $US 460, which means the Singapore iPod is still more expensive.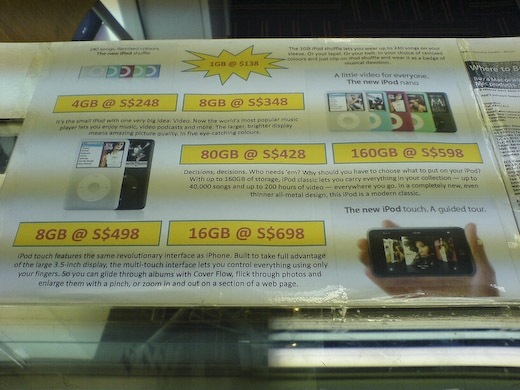 iPod Prices in Singapore
However, in Singapore, tourists can get a 5 per cent GST refund (Goods and Service tax). 5 per cent of S$698 would be $S 35, which is only $24 US. So that still makes the Singapore cost of an iPod Touch over 60 dollars more than buying it in the USA.
Even if you can haggle a little with non-Apple stores selling the iPod (I'm pretty sure the official Apple Store wouldn't be too impressed with haggling attempts) the savings you'll make are miniscule. To be fair to Singapore, it's difficult to find discounts on iPods anywhere in the world as Apple keep a tight control on pricing. You can see my previous articles on the price of iPods in Thailand and in Hong Kong for more examples. You might also find this guide to buying digital cameras in Thailand useful. The search for cheap iPods in Asia continues…
Buy cheap iPods on Ebay

[phpbay] apple ipod touch, 30, 15057 [/phpbay]