Thailand's Full Moon Party has come fully back to life. Check dates of forthcoming Full Moon Parties and get tips on where to stay and how to get to Koh Phangnan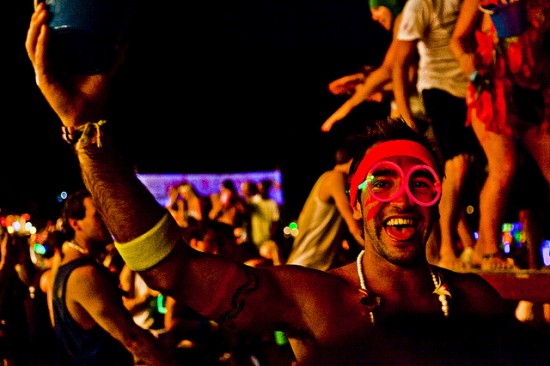 Koh Phangan's infamous Full Moon Party is back on after a couple of years of downtime due to the Covid-19 global pandemic. Already thousands of travellers have been flocking to Haad Rin beach to party until sunrise and the number of party people coming to join the Full Moon Party is only going to increase through 2023 and 2024.
Thailand Holiday Essentials
Full Moon Party Dates for 2023
Note: These dates might change by a day or two, depending on whether extra Thai public holidays are announced in future.
Friday January 6, 2023
Sunday February 5, 2023
Tuesday March 7, 2023
Friday April 7, 2023
Friday May 5, 2023
Sunday June 4, 2023
Sunday July 2, 2023
Thursday August 3, 2023
Thursday August 31, 2023
Saturday September 29, 2023
Friday September 29, 2023
Monday October 30, 2023
Monday November 27, 2023
Wednesday December 27, 2023
Sunday December 31, 2023
You can quickly check times and prices of travelling from Bangkok to Koh Phangan and also check availability of Haad Rin accommodation for the dates of the Full Moon Party you want to attend. More info on travelling and staying at the FMP below.
Full Moon Party Dates for 2024
Note: These dates might change by a day or two, depending on whether extra Thai public holidays are announced in future.
Friday January 26, 2024
Saturday February 24, 2024
Monday March 25, 2024
Wednesday April 24, 2024
Thursday May 23, 2024
Saturday June 22, 2024
Sunday July 21, 2024
Tuesday August 20, 2024
Wednesday September 18, 2024
Thursday October 17, 2024
Saturday November 16, 2024
Sunday December 15, 2024

How To Get to Koh Phangan For The Full Moon Party

The quickest and most expensive way is to fly to Koh Samui and then get a ferry to Koh Phangan. There is no airport on Koh Phangan itself.

You can also get a Koh Phangan bus and ferry combined ticket which takes you overnight from Bangkok to the ferry terminal on the mainland, and then catch the ferry to Koh Phangan. You don't have to worry about the transfer between bus and ferry – that's all taken care of for you.

The Lomprayah catamaran is the fastest ferry out to Koh Phangan and a little more expensive but worth it for the speed and stability.

Alternative Ways To Get To Koh Phangan

You can also fly from Bangkok to Surat Thani, organise your own transport to the ferry terminal and then catch the ferry to Koh Phangan. The flight is usually a lot cheaper than flying to Koh Samui. The ferry journey is longer but it's still quicker than the overnight bus. However, triple check the times of the plane arriving and the ferry departing and leave at least a couple of hours to transfer.

If you're fond of trains, you can get the overnight train from Bangkok to Surat Thani and then get the ferry, but this is the longest way of doing it.

You can get a speedboat from Koh Samui over to the Full Moon Party which will then wait for you and take you back to Samui at around 2 am, but it can get very crowded at the pier, plus it could be a bumpy ride on the way back in the dark.

Book Accommodation Well Ahead Of The Full Moon Party

Ideally you want to get accommodation right on Haad Rin beach or nearby to save you having to walk a long way or find a taxi late at night back to your hotel. With far less people attending the Full Moon Party at the moment than before the Covid pandemic, it's possible to get Haad Rin accommodation if you book well in advance. Be aware that many places require you to stay for a minimum of three nights.

Paradise Bungalows is the place where the Full Moon Party began and it still survives right on Haad Rin beach. Tommy's further up the beach is also a great choice, but there are plenty of other places to stay along the streets just off Haad Rin beach.

You can quickly check what Haad Rin accommodation is available on your chosen dates and see if you get lucky with being on the beach. Be sure to look at the map to check its location.

Use the accommodation map below to quickly see the location of each place to stay. Select your dates and hit Search to find out what's available during your visit.




Tips To Fully Enjoy The Full Moon Party

Wear enclosed footwear. Don't just wear flipflops or go barefoot. There is a lot of trash on the beach as the party progresses – you don't want to step on broken glass or similar as getting medical help will be time-consuming.
Party hard but try to stay hydrated – the heat and humidity can still be full-on even after dark
Wear mosquito repellent, especially at sunset – and don't forget sunscreen during the day
Bring condoms if you're hoping to get lucky
Avoid drugs as plain clothes policemen are often in the Full Moon crowd. Also remember vaping in illegal in Thailand (crazy, but true). And while cannabis was recently legalised in Thailand, it's still illegal to smoke it.
Don't go swimming in the sea as it becomes an open-air toilet as the night goes on. You could pick up an eye infection or worse so avoid.
Get enough cash to see you through the party before you leave for Koh Phangan to save you hunting around for an ATM
For the journey from Bangkok to Koh Phangan, bring a hoodie or jacket to keep you warm – the air conditioning is often extremely cold on airplanes, buses and ferries in Thailand.
Don't forget seasick tablets for the ferry journey if you're not a salty sea dog
Have it large

What To Do After The Full Moon Party

Koh Phangan is a big, beautiful island with a lot more beaches to explore in the post-Party comedown. Check our Quick Guide to Koh Phangan for ideas on how to spend more time on the island. Or alternatively, see our guides to the neighbouring islands Koh Tao and Koh Samui.