My friend Dan White was an accomplished photojournalist who unexpectedly passed away last week. He was 47. He leaves behind some amazing photos and stories about travelling in Asia.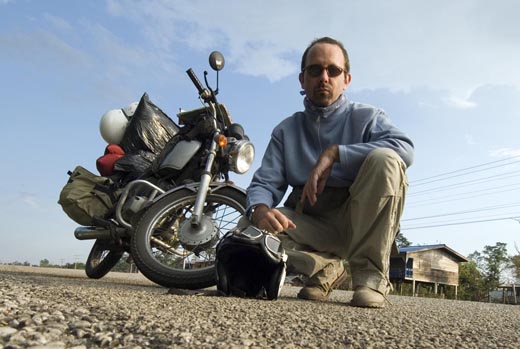 A British photojournalist based in Bangkok since 2002, Dan was happiest driving his motorbike around Thailand to anywhere that seemed obscure and interesting. He spent weeks at a time on the road shooting the photos for his two most recent books, Sacred Tattoos of Thailand and Buddhist Temples Of Thailand, both co-authored with veteran Thailand writer Joe Cummings.
Previously, Dan wrote a piece for Travelhappy about motorbiking the Mae Hong Son loop. The paragraph about Pai's "pajama people" is vintage Dan comedy travel writing.
He also did a write-up about the process of travelling the length and breadth of Thailand to photograph over a hundred Thai temples for his book.
Dan had the gift of being both an excellent photographer and an incisive and witty writer. His photo portfolio showcases some glorious photos from 3 decades of travelling as a photojournalist, mainly in India, Afghanistan and South East Asia, while his writing work covers, among other things, disaster zones, political commentary and Asian history.
While he had a well-honed cynical faculty, Dan was also one of the most compassionate people I know, and his sensitivity meant that he produced superb work due to empathy with his subjects but also caused him private anguish because he struggled to detach himself from what he'd seen. Luke Hunt gives a more thorough precis of Dan's work in this obituary.
Although I'd known Dan for five years and we'd talked long into the night on many an occasion, looking at his portfolio makes me realise how many more stories Dan had to share from his past that I never got to hear. He had a great breadth of knowledge on a dizzying array of subjects that made our convos wander into all sorts of areas, occasionally heated but usually punctuated by Dan's self-deprecating wit.
Perhaps most of all, I'm going to miss his sense of the absurd, our shared love of Spike Milligan and the gales of laughter that would inevitably ensue when we got together.
Goodbye Dan. Go well mate.
Dan White 1965 - 2012