Riding a motorbike through Northern Thailand opens up some of the country's most spectacular scenery for those who want to cut loose and hit the open road. Dan White provides a quick guide on where to go on Thailand's most famous biking route, the Mae Hong Son Loop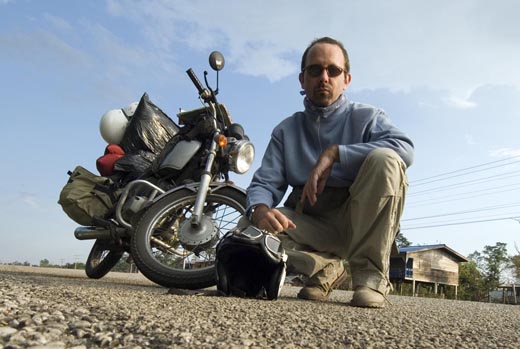 Most in the know on motorcycle touring would agree that northern Thailand is pretty close to Nirvana. From Loei over the gentle hills of Phrae to the wild lands of Nan, further across the looping fast road from Pha Yao to Chiang Mai, it's all good. The road from Mae Sariang to Mae Sot is like driving through the set of a Hollywood epic after having been fed something that makes you happy. But perhaps the route that defines why motorcycling in northern Thailand is such a draw is the Mae Hong Son loop. Its hundreds of kilometres of amazing views, challenging roads, great places to stay, remote hill tribe settlements and, just for good measure, the highest mountain in Thailand approached through an avenue of fragrant rhododendrons.
Chiang Mai To Pai
The first 50 km is the fast road north out of Chiang Mai. Best to go as fast as possible because it's really boring. Once you take the left turn off from route 107 to route 1095 at Dong Palan, things start to change very fast. The road starts to climb and wind. The surrounding forest becomes thicker. After about half an hour you reach an excellent café in a beautifully landscaped garden. It's a really peaceful place where you can relax on the wooden deck and drink freshly ground coffee to help you round the upcoming bends.
The road to Pai is breathtakingly beautiful through Jungle lined valleys, past small streams with spectacular views at every turn. The descent to Pai itself is very long and very steep. The locals drive at breakneck speed round the bends, but for those who are not actually suicidal it's a road best taken very slowly.
Arriving In Pai
Then you arrive in Pai itself. Set in a remote valley along which flows the river Pai, this place could just about be Shangri-La; but actually it's not. There is one reason. Pajama people. Dubbed the Koh Phangan of the north, Pai is plagued by them. The strangely shaped have flocked from all over the world to wear clothing that would have them arrested in their home country. They huddle in cafes exercising the virtue of thrift to an almost devotional degree. For the pajama people money and the not spending of it has been elevated virtually to the status of a religion. Amongst three major portals, the other two being Khao San Road in Bangkok and the island of Koh Phangan, Pai is now, undoubtedly the pajama bastion of the north. Like a Hadrian's wall of cheap unreality Pai is a hive of po faced children exchanging tales of hair braiding, bad tattoos and all else that is not too costly.
If you want to avoid the pajama people it's easily done. There are some good resorts on the other side of the river from the main town. Pai also has some excellent restaurants where you can get the freshly baked bread which has become a specialty of the town. Pai itself is an interesting mixture of indigenous Shan people and Muslim Yunnanese immigrants, refugees from Mao's China.
Pai To Mae Hong Son
Heading out of Pai the road begins, once again, to climb steeply. This is actually quite challenging riding since there are some very, very steep bends. Parts of the road sometimes collapse during rainy season and take a while to repair, so it's best taken slowly. Along the way there are great views particularly at Kiu Lom. It's a nice place to stop. There is a small café and the inevitable hill tribe vendors selling the usual collection of embroidered bags, funny hats and annoying wooden frogs.
The amazing scenery continues relentlessly. The only major town between Pai and Mae Hong Son is Soppong. It's actually incongruously grotty but there are some nice guesthouses and resorts on either side if you want to break up the ride.
As the road continues there is a slow descent taking you through what can only be described as a sort of tropical Narnia. Best seen just before the rice harvest one drives through little valleys lined with paddy fields of almost luminous green dotted with huge limestone outcrops.
Mae Hong Son
Mae Hong Son is a town that has seen vast development in the last fifteen years. Once a remote place with a very wild border feeling about it, now it is pretty almost to the point of being manicured. Not much happens in Mae Hong Son but it is a relaxing place to pass a couple of days. There are some agreeable guesthouses around the central lake near the very impressive Burmese temple. There are plenty of things to visit around Mae Hong Son if you are staying there for a couple of days including the villages of the 'Long Neck' Karen. These villages exist only because tourists enjoy visiting them. Although the long necks make good money there is a very serious debate about the ethics of putting people on show in this way.
Driving out of Mae Hong Son you are now on route 108 and it is a straighter and faster road than route 1095 which winds its way up from Pai. After about 70km you are faced with a choice. You can either carry on south to the delightful riverine town of Mae Sariang or you can turn left just before Khun Yuam and head directly over the mountains to Doi Inthanon, the highest mountain in Thailand. It's a tough choice because they are both great rides.
If you take the southern route then a one night stop in Mae Sariang is a good idea. It's a pleasant little town with old wooden houses lining the river. The road back to Chiang Mai is a good day's ride and takes you past yet more splendid mountain scenery before you join the main highway back to town.
Doi Inthanon, the highest mountain in Thailand
If you choose the Doi Inthanon route then you are embarking on a very different drive. Route 1263 climbs quickly and the road starts to wind in earnest. Unlike other parts of the loop the hills here are not heavily forested. In fact they are quite barren. At time it looks almost like parts of Spain. The road feels very remote all the way to Mae Chaem at the foot of Doi Inthanon. Approaching the mountain from this side gives a marvelous view of the mountain and the road back to Chiang Mai takes you right over it. The 1192 is a beautiful winding road lined with wild flowers that, without exaggeration, fill the air with scent.
Doi Inthanon is a national park and you will be asked to pay if you are going to visit the mountain peak. If you are however 'through traffic' on the way to Chomtong then you won't. It's a sad fact, however, that sometimes through traffic gets hopelessly lost and takes a wrong turn (left in this case) as the 1192 meets the 1009 and you sadly find yourself at the highest point of Thailand. It's a windy place that actually gets quite cold. There are some large rather Stalinist looking stupas and a tacky gift shop. The best thing about Doi Inthanon is getting there.
The Road Back To Chiang Mai
To get back to Chiang Mai you retrace your steps to the junction where you accidentally took a wrong turn and carry straight on. The drive down the eastern side of the mountain is VERY fast. In fact it's a race track. A very scenic race track at that with gentle fast bends and a slow incline. No amount of forethought can prepare you for just how fast this road is. The road joins the main highway and then you have a boring hour and half drive back to town. The Mae Hong Son Loop is best completed with a cold beer at 'The Kafe' on Chiang Mai's Moat Road. Chiang Mai is full of people who love motorcycling and this where they often gather. If you want to make the most of the loop its worth investing in the map published by www.gt-rider.com since it is specially produced with motorcyclists in mind and is available in bookshops and cafes all over town.
—
Dan White is a photojournalist – see more of his work at DanWhite.org