Getting to the ancient temples of Angkor is easy from Bangkok, allowing you to see the temples in a couple of days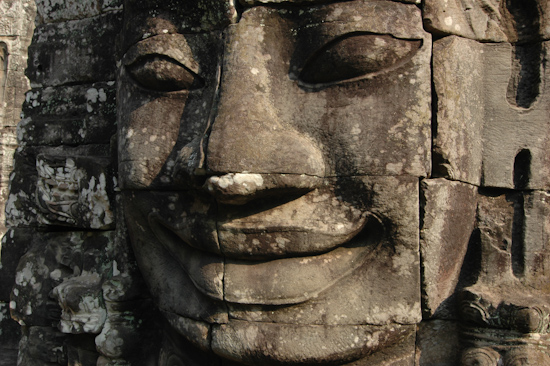 Flying To Angkor Wat
By far the easiest way to get to Angkor Wat from Bangkok is to fly.
Check flights on Skyscanner to find the cheapest direct flights from Bangkok to Siem Reap (the town nearest to the Angkor temples).
The airport code for Bangkok is BKK and the airport code for Siem Reap is REP
The flight takes about one hour and Siem Reap airport is only a 20 minute drive from the town. There are also direct international flights to Siem Reap (Angkor) from many other countries – check Skyscanner for details.
Air Asia and Bangkok Airways are the two main airlines that fly from Bangkok to Angkor Wat. Prices can be quite high because Bangkok Airways controls access and so pricing on the Bangkok to Siem Reap route.
For Bangkok to Siem Reap flights, you can book your tickets online, but you might need to collect the physical tickets at the airport from Bangkok Airways ticket desk in Suvarnabhumi Airport before you check in, so allow extra time for that.
You will also need a passport photo for your Cambodian visa, which you get on arrival at Siem Reap airport. The visa fee is currently $25US, payable in US dollars cash. There is also a $25US airport departure tax, payable by cash or credit card. See Travelhappy's page on Getting A Visa On Arrival At Siem Reap Airport for info and tips on beating the queues.
Check for the cheapest flights to Siem Reap on
Skyscanner
– compare airline prices instantly
Bangkok To Phnom Penh Flight And Driving To Siem Reap
Another option to consider is to fly Bangkok (BKK) to Phnom Penh (PNH) – check for flight times and prices and also – stay a couple of days in Phnom Penh and then get the bus up to Siem Reap. The flights to Phnom Penh tend to be considerably cheaper. I wrote about my own recent weekend in Phnom Penh if you want some ideas of what to see there.
Bus From Bangkok To Siem Reap
If you want to save cash and go overland from Bangkok to Siem Reap, you can get a bus to the border town of Poipet and then transfer over the border. It used to be that once in Cambodia the roads deteriorated rapidly but extensive repairs have been made over the last 5 years. You can check bus departure times, prices and book tickets using the search box below
Angkor Wat Must Sees
If you decide to go to Angkor Wat, have a read of my Brief Guide to Angkor Wat, Cambodia – it's in three parts and gives a rundown of what I think are the best temples to see and a bit of history along with practicalities to let you get the best out of your time at the temples. You might also want to consider Angkor Thailand, the Angkor-period temples that are located within Thailand. Some of them are stunning and much less crowded too.
Angkor Wat Accommodation
There is a lot of accommodation in Siem Reap, from very cheap guesthouses to a plethora of huge, corporate 5 Star hotels. Agoda has plenty of Siem Reap Hotels which you can book online.
Check Siem Reap hotel availability and pricing on
Booking.com
– book now, pay later
If you've got the cash, I also unreservedly recommend the FCC Angkor hotel – follow the link for my review and some pictures. It's where Angelina Jolie stayed when she was making the Tomb Raider movie at Angkor. It's not the most expensive of Angkor's luxury hotels, but it's certainly one of the classiest. You can book the FCC Angkor hotel online at Agoda.com
More on Travelhappy about Temples In Thailand, Cambodia and Burma: