The rise and fall of the Angkor Empire was ironically brought about by the very grandeur of the spectacular temples it created
[Previously: Part 1: Sukhothai]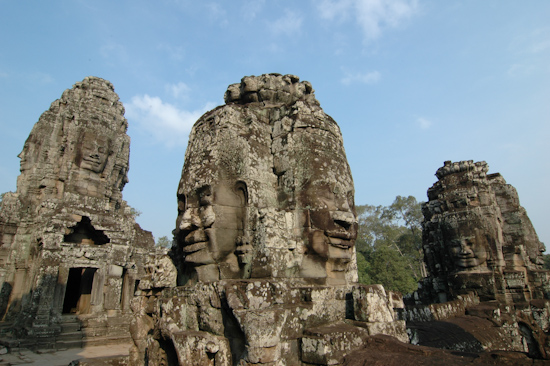 Sukhothai's rediscovery only came 30 years after Angkor had itself been found again by Henri Mahout in 1860. There exist photos of Angkor Wat itself barely visible through the foliage of the strangler fig vine wrapped around it, and which still engulfs the entire Ta Prohm temple today, deliberately left by the restorers as a concession to the Western public's fondness for picaresque ruins. (See the excellent photobook Angkor: Heart Of An Asian Empire for pics of Angkor whilst it was still lost in the jungle) Ta Prohm recently starred in the Tomb Raider movie for precisely that reason. This grand clearing of Angkor's temples did not begin until 1907, carried out by the colonial French after Angkor was formally relinquished by the Thais. With this ongoing program to restore the temples barely started, the first, very wealthy, tourists already began to arrive at Angkor, and there are commemorative photos clearly showing early cars nonchalantly parked at the bottom of Angkor Wat's steps.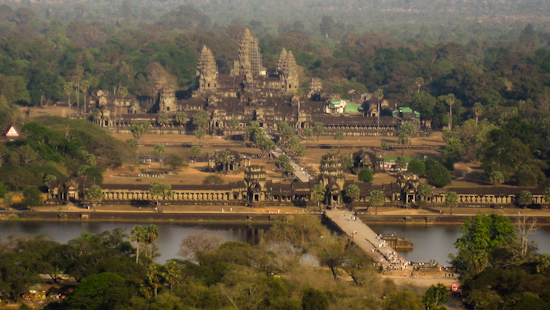 Angkor Wat is, indisputably, the grandest temple of all three kingdoms. Besides being the world's largest religious building, Angkor is also the most well preserved of the Khmer temple complexes, having survived invasion, abandonment to the jungle, the genocidal Pol Pot regime of the 1970s and the predations of real life tomb raiders throughout the last century. It is near impossible to not be stunned by its colossal size and the symmetrical grace of its square, ascending tiers which summit in the tapering lotus chedis at its centre, some 70 metres tall. The dark grey laterite stone is etched with endless intricate figures, details and decorations, especially around the inner galleries, which depicts some of the most important scenes of Buddhist mythology in vast, ornate bas-reliefs.
Buy Tickets To Siem Reap
Use the search box below to find out departure times and prices on your selected travel dates to Siem Reap.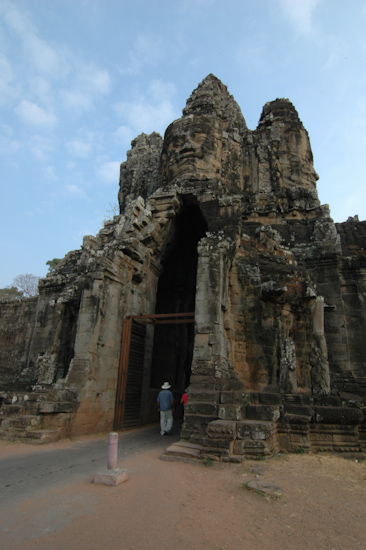 Behind Angkor Wat lies Angkor Thom, the supposedly impregnable walled city that, like Sukhothai and Bagan, would have been filled with thousands of wooden houses around the temples which housed the ordinary citizens. At its centre lies the Bayon, where modern day visitors come face to face with Jayavarman VII, the self ordained God King who presided over Angkor's last phase of temple building. A hundred huge stone faces of the King look in all directions from their towers across the city and beyond, an 800 year old Big Brother with a smile as difficult to fathom as the Mona Lisa. The Bayon is quite bewitching and somewhat sinister too, a testament to bombast and absolute power. Chou Ta-Kuan, the Chinese visitor to Angkor at the end of the 13th century who kept a surviving diary of his travels, tells us that the faces of the Bayon were originally covered in gold, an unwitting symbol of Jayavarman's hubris that was to become Angkor's nemesis. Part 3: Bagan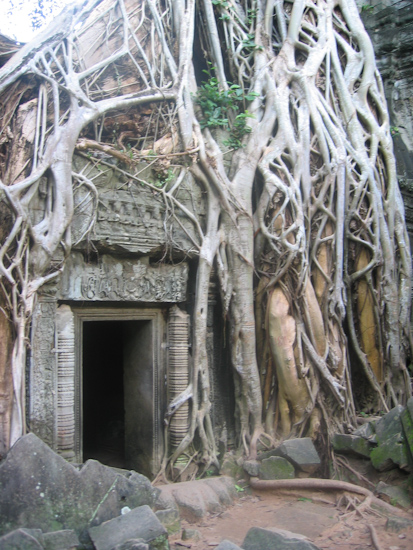 More on Travelhappy about Temples In Thailand, Cambodia and Burma: