Chiang Mai offers exotic culture, interesting courses, outdoor adventure, and wonderful food all in one small city. Here's seven great things to do in Thailand's northern gem
Chiang Mai has plenty to keep you entertained during a visit, even though it's much smaller and more laid back than Bangkok. You can visit a temple, learn to cook a Thai meal, coast down a mountain on a bicycle, or munch on insects for dinner. Alternatively, buy a hand-painted paper umbrella, go on a silent retreat, ride an elephant, or lunch on the local soup, khao sawy (pronounced 'cow soy', and spelled several different ways). You can do almost anything in Chiang Mai.
Pick and choose according to your own interests, but be sure to include some of the top seven things to do in Chiang Mai.
1. Go on a jungle trek
Known as hill tribe treks, these trips include stops at some of the tribal villages that live in the hills around Chiang Mai. The visits will be artificial, you'll be charged to take pictures, and pushed to buy souvenirs, but they are still the most popular activity around, the thing that Chiang Mai is known for, and are a very different experience from visiting a wat (temple).
2. Visit Wat Doi Suthep
This is where everyone gets those little string bracelets you've been noticing. The wat (temple) sits at the top of a hill out of town. Once there, you can either climb an endless set of stairs or take a cable car to the top to be blessed by a monk, receive your string, and enjoy the cooler temperatures and the views.
There are over three hundred wats in the Chiang Mai area, sometimes several to a block. I dropped in for a five-minute look at nearly every one I passed.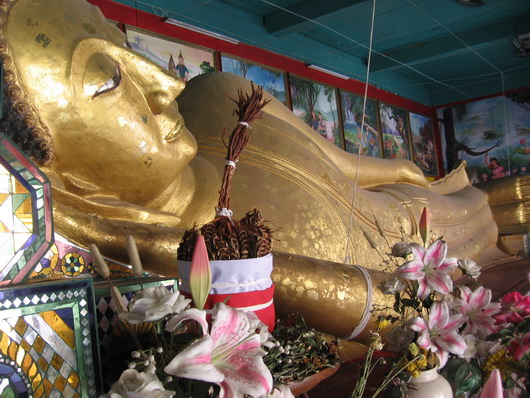 3. Take a Thai cooking class
The classes range from half-day sessions to several weeks. Try to get one that takes you to the market to shop for ingredients and allows you to cook a meal rather than watch a demonstration. While in class, and for a while afterwards, be very careful not to touch your face, especially your eyes. The oil from the chilies can be devastating.
4. Get up close and personal with an elephant
You can spend two days at the elephant sanctuary, helping to care for them and learning how they are trained, or you can take a tour that involves an elephant ride. A popular trip to Chiang Rai uses elephants and a trip down river on a raft as part of your transportation. After an overnight stay in Chiang Rai, you go on to visit the Golden Triangle. I spent most of the elephant ride getting used to being so high up, expecting that precarious-looking platform seat resting on the elephant's back (howdah) to slide off carrying me with it. I also wondered how such a big animal could walk on that narrow path, the one with the big drop-off. It was on my side, of course.
5. Get a massage
Even for something this simple, the options are endless. You can go to a spa, have a masseuse come to your room, visit a center for the blind, stop at a temple, or try one of the sidewalk places. You can have Thai, shiatsu, or reiki. A sidewalk massage will usually be limited to a foot massage or a neck and shoulder massage. Foot massages are a good option in the middle of a long day of sight-seeing. I got one whenever my poor abused feet started to protest, which was fairly often. Prices are minimal compared to what you would pay at home. A half hour foot massage can be had for as little as 60 baht, or about $2 US. It's easy to find a sidewalk or temple massage on the main streets.
6. Join the crowd at the Sunday walking street
On evenings, one of the main streets is turned into a pedestrian mall, and lined with stalls selling souvenirs and household goods. Parking lots become hawker centers that sell a wide variety of foods. Eat while you stroll, or select samples from various stalls and perch on the low stools while you pick through the goodies.
Go early if you really want to shop. Later in the evening the street will be so crowded that it will be nearly impossible to move. Prices are often better than at the night market. If you are braver than I am, you can try the crispy scorpions.
7. Investigate the sois
A narrow crooked lane that twist through the spaces between the major streets is called a soi. Many guesthouses are situated back on these sometimes quieter lanes, but some are empty of any sign of a foreign presence. Spend some time just walking, turning on a whim, and seeing what's there. You could stumble on a terracotta factory, an isolated wat, or quiet sleepy streets.