The Komodo Dragons of Indonesia are the world's biggest lizard, the nearest thing we have left to a dinosaur and can kill a man with a single bite. I travelled to meet them face to face in their home territory on the remote island of Komodo, deep within the Indonesian archipelago.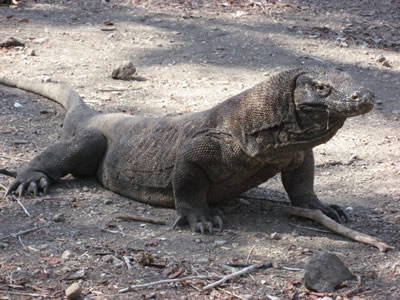 Coming face to face with the Komodo Dragons in their natural habitat is somewhat humbling. These huge lizards, up to 3 metres in length, have no fear of humans but humans certainly have reason to fear the Dragons – two tourists have died while visiting these apex predators on the remote Indonesian island of Komodo. The Dragons infamously have a bacteria-ridden mouth that causes death by infection from a single bite – the dragons bite their prey and then track the unfortunate victim for days if necessary while waiting for it to die. When they move, then you need to move right out of the way, as you can see from this very shaky video I shot while with the Komodo Dragons on Komodo Island.
Check for the cheapest flights to Komodo on
Skyscanner
– compare airline prices instantly
Dangerous, dung-mouthed and drooling – what, then, is the enduring appeal of the Komodo Dragon on our collective imaginations? First discovered by Europeans back in 1910, the Dragons are considered to be direct descendents of the dinosaurs, and certainly the nearest creature to the dinosaurs that we still have alive today. They are the world's largest lizards and belong to the monitor lizard family.
Indonesia Holiday Essentials
The scorched mountains of Komodo certainly look like a real world Jurassic Park, abruptly rising from the sea beneath a relentless sun with little sign of human settlement. There is only one town (known as a kampung) on the island of Komodo, but the whole island and the seas around it are part of the Komodo National Park, put in place in the 1980s to protect the Dragon and the other creatures of this remote island habitat. The Dragons themselves were only discovered in 1911, and the remoteness of their natural habitat adds to the feel of having stepped back to somewhere truly primeval.
We arrived at Komodo early one morning after three days sail from Bali on a scuba diving liveaboard around Komodo. Even in the 21st century, it is not easy to get to this remote island, which accounts for why it's still not a major tourist destination. Infrastructure on the island for tourists is also very basic, and besides, you have to keep a lookout for the Dragons wherever you are on Komodo – there are around 6000 of them living on the island.
Even at 8 in the morning the heat was quite incredible – at least 35 degrees celsius and full humidity too. We took an hour long walk into the bush with our two watchful guides, both armed with big forked sticks to keep any marauding dragons at bay. The island's landscape is desolately beautiful, the sun having reduced all the foliage to dry brown scrub. Apparently when the rainy season begins later in December the island transforms into lush green pasture within the space of two months. We spotted several cockatoos and a big spider whilst on our walk in the bush, as well as getting a fantastic panorama of the island and bay from a lookout point.
We didn't spot a Komodo Dragon while on our walk, which was a obviously a shame. It would be necessary to spend several days on Komodo to properly explore the island. However, daytrippers like us don't go away emptyhanded – there are several Dragons that actually live around the Conservation Headquarters – they're particularly fond of camping out in the shade of the kitchen hut. You can smell them before you see them – given their foul mouths, personal hygiene is also not high on the Komodo Dragon agenda.
At first seemingly sluggish stretched out in the shade, when the dragons are roused with the promise of a bit of food dangled from a pole above them, they are on their feet and in pursuit very quickly. The Dragons are not afraid to stand on one another to reach the food and demonstrate dominance – indeed, they are known cannibals, eating their own young on occasion.
They are also not afraid to check out the creatures standing around them taking photos – and when a Komodo Dragon starts heading towards you, they really do seem to move very fast indeed. They also make a distinct hissing sound when scenting food which is a warning to other Dragons to back off, although it has the same effect on humans too.
Check Komodo hotel availability and pricing on
Booking.com
– book now, pay later
After half an hour or so with the Dragons, we left them in peace and headed back to our boat. It was something of a childhood ambition of mine to see the Komodo Dragons, and I still couldn't quite believe it had happened as I stepped back onto our liveaboard. They are fascinating creatures and to see them in their natural habitat – albeit with some help from the kitchen slop bin – made it seem all the more possible that the Dragons are a throwback to prehistoric creatures. It also makes me wonder what else is living on Indonesia's other 17,000 islands, many of which have never been fully explored and charted.