After a long, hot day of touring the spectacular temples of Angkor Wat in Cambodia, the Foreign Correspondent's Club provides a glorious retreat for tired travellers to relax and contemplate Angkor's ancient wonders.
Situated in the centre of the nearby town of Siem Reap, the FCC Angkor is a commanding French art deco building set amongst its own immaculate grounds. The former home of the French consulate, this 40 year old building looks like something modernist architect Mies van der Rohe would have built – an elegant mix of sparkling white architecture with clean, straight lines and louvre doors, the absolute opposite of the temples' magnificent organic stonework. There's a definite sense of unity and purpose at the FCC – everything has been meticulously planned and thought out which has created a very relaxed living space where everything is just so. I stayed here with my parents when they came to visit me, and they were as impressed as I was – which is a definite accolade. I booked our rooms at the FCC Angkor online with Agoda.com.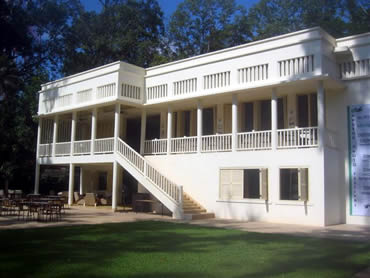 The FCC's restaurant takes up the entire first floor, with guests able to either sit beneath the fans within the dining room or on deeply comfortable armchairs outside on the balconies. The louvered doors that form the walls of the restaurant are usually open, creating a wonderfully airy space for dining. Behind the main building is a lush green garden which centres around a tiled salt water swimming pool that looks, on first glance, as if it's only meant to be ornamental. Arranged around the pool are 29 rooms and 2 suites, each given their own name after Cambodian herbs and spices, (Tamarind, Sesame etc), rather than a number. The rooms are all brand new, as the accommodation section of the FCC Angkor opened in December 2004. When I visited Angkor for the first time in 2003, only the FCC restaurant was open.
Buy Tickets To Siem Reap
Use the search box below to find out departure times and prices on your selected travel dates to Siem Reap.

The rooms themselves share the same simple elegance as the original front building – they all have floor to ceiling windows that look out over the swimming pool, with a curtain for privacy too, complementing white walls, solid hardwood floors, high ceilings, large comfortable beds and, of course, as befits the FCC, a sturdy writing desk. Air conditioning, IDD phone, minibar, coffee and tea making facilities are all present too, plus around 50 different cable TV channels in numerous languages. The FCC also provides a large hardback photo book about Angkor's temples for browsing.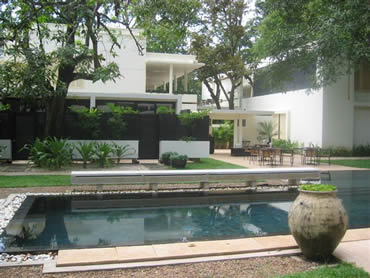 The bathroom is a delight, with a solid marble bath with a invigoratingly powerful shower, as well as plenty of dressing room and storage space for clothes behind dark wood cupboard doors. There's also a safe. The quality of the furnishings and the neutral colours used throughout the bedroom and bathroom make for an extremely relaxing environment. Spa treatments are available either within your room or at the Visaya Spa, which is also located at the poolside – perfect for unwinding sore muscles after a day of temple exploring.
The FCC Angkor provides both cars and vans with drivers and optional guides for guests wishing to explore the temples, both to the most popular sites, such as Angkor Wat, and to more remote locations, like Kbal Spean and Banteay Srei. For those wanting to see sunrise at Angkor Wat, breakfast is served directly to your room at whatever early hour you require.
It's small touches like this, where guests' needs have been anticipated and accommodated, that makes the FCC Angkor such a superlative place to stay. Luxury surroundings can be ruined by poor customer service, but the staff at the FCC are extremely proactive, helpful and friendly. Coupled with the attention to detail that has gone into the FCC Angkor's conception, this really is a place where guests can completely relax, because they will be looked after from arrival at the airport to checkout at the end of their stay.
There are plenty of other accommodation choices in Angkor:
As well as providing booking for the FCC, Agoda has a comprehensive selection of Angkor luxury hotels while HostelBookers has lots of cheap backpacker options with its selection of Siem Reap guesthouses.
See also my other articles about Angkor: Angkor Wat: A Brief Guide; Angkor Wat From Bangkok: Book Review: Angkor – Heart Of An Asian Empire