Hanoi has hotels for all budgets, although booking ahead can be important to get the best rooms. Prices are a little more expensive for backpackers than elsewhere in Vietnam, but there are some nice options if you want to splash the cash.
Check for the cheapest flights to Hanoi on
Skyscanner
– compare airline prices instantly
I've been to Hanoi several times in the last few years, first as a backpacker and then on weekend breaks where we've spent a bit more on posh places. Hanoi has plenty of hotels to cater to both ends of the market, with most tourists opting to stay in the Old Quarter. Be warned – it's pretty noisy all the time from bike engines and horns in the Old Quarter, so if you are a light sleeper take earplugs. Have a read of Where To Stay In Hanoi to get a sense of the city's layout and my Hanoi Quick Guide for things to see and do.
Lucky Star
11 Bat Dan
A great backpacker choice in the Old Quarter. I've stayed here twice and had friends stay there subsequently. New, clean, nicely decorated rooms with ensuite bathroom – try to get a room on the higher floors as they are quieter from the traffic. Staff are friendly and there is free internet access on 2 PCs actually located outside the hotel on the pavement, although you'll probably need to kick the bellboys playing online games off them first. Check availability on Booking.com
There's more reviews of Lucky Star on Tripadvisor.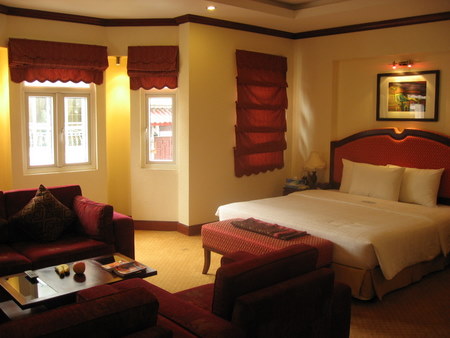 Hoa Binh Palace Hotel suite
Hoa Binh Palace
27 Hang Be
Brand new hotel with excellent location on one of the Old Quarter's nicest streets. A more upmarket place with a choice of room sizes. A lot of thought has gone into the services of this hotel: Free wireless internet that's superfast, breakfast included in their 8th floor restaurant which has nice views over Hanoi's rooftops, and good staff service. We splashed out and stayed in one of the executive suites, which was big and with its own sofas, widescreen TV with satellite channels. Despite double glazing on the windows, it's still pretty noisy from the streets, although you can get some great photos just by leaning out the window.
You can read more reviews of the Hoa Binh Palace Hotel at Tripadvisor.
Hanoi Hilton Opera
A good choice if you can get a good deal on the price, the Hilton is opulent looking on the outside but fairly dowdy on the inside. It's got all the stuff you would expect from a 4 star hotel, including extremely comfy beds, but for such a grandiose looking building it's rather lacking in character. The Hilton is, however, extremely quiet, being well insulated from the traffic noise outside. Check availability and pricing at Booking.com
There's more reviews of the Hanoi Hilton Opera at Tripadvisor.