A new graphic novel traces the journey of an American-born Vietnamese returning to his homeland in search of his family roots and trying to understand an entirely foreign culture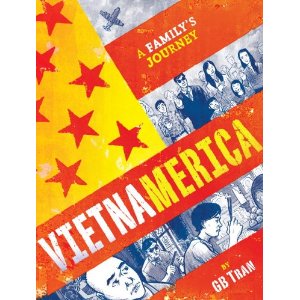 I'm a big fan of graphic novels, and GB Tran's just-released Vietnamerica looks like just my cup of tea. Graphic novels provide a great mix of both movie and literary techniques to tell a story, while creating something wholly different too – they're much easier to digest than a traditional book and the best are packed full of far more content than a standard movie. A foreigner entering a strange culture is always a topic ripe for exploration, but an American Vietnamese trying to understand his own family and a home country that is wholly alien to him – along with the recent past of the American War that brought about his birth in the US to begin with – is a truly potent mix of themes to be explored. For travellers, these kinds of books also provide useful insights into countries that otherwise might not be apparent from more standard guidebooks and history tomes. And they also tend to be somewhat easier to read.
I've only read the very impressive free 20 page preview available at Scribd so far, but will be hunting down a copy in Bangkok at the earliest opportunity. You can also visit author GB Tran's official site, buy Transamerica on Amazon and this Transamerica review from the LA Times. Thanks to Warren Ellis for plugging Vietamerica – he says it's "a memoir in graphic novel form of the author's attempts to make sense of the lives of his family, who fled Viet Nam for America during the fall of Saigon. Often crude, always atmospheric and evocative, sometimes kaleidoscopic to the point of psychedelia in its construction and formal invention."
If you're interested in more graphic novels that explore these themes, I thoroughly recommend Guy Delisle's three memoirs of his time living in Pyongyang, Shenzen and most recently, Burma Chronicles, the first two of which I've reviewed here on Travelhappy previously. Gene Yang's American Born Chinese is also a brilliant, and very funny, take on the challenges and triumphs of integrating into American culture.