Railay Bay is still one of Thailand's most spectacular beaches, despite its increasingly popularity. Bangkok nightlife guru Sapphira describes why its her favourite place in Thailand to visit with practical info on how to get there and where to stay.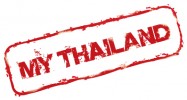 [Ed Note: My Thailand is an occasional series on Travelhappy where friends of mine who live or have travelled in Thailand give their insight into what makes Thailand special to them. Here Sapphira, who edits Bangkok guide Thonglor-Ekamai.com, explains why she loves Krabi's Railay Bay.]
Over to Sapphira:
When you go to Krabi in the south of Thailand you simply cannot go without visiting Railay Bay, even just for a day trip. There are 3 little longtail boat piers in Ao Nang, the bustling seaside town 40 minutes drive from Krabi airport, that will transport you to Railay for 100 baht/person (150 baht after 6pm).
Your 15 minute long tail trip will open your eyes to stunning limestone caves and mountains. First-timers will literally have to pick up their jaws from the ground. Truly a beautiful sight.
Railay West is the better beach with white sand and sunset view. Note that during Low Season the tides come up pretty high and even higher on Railay East, making it very difficult to walk without getting wet (day or night). If you want to rock climb, trek to the scenic Viewpoint or free climb quite dangerously to the Lagoon, Railay East is where you'll be.
There are an abundance of lovely hotels on Railay East. Party goers will follow the big thumping music to the end of Railay East for some reggae bars and the popular fire show bar at the end of the stretch suitably called "The Last Bar".
On Railay West, one of the biggest and best located hotels is Railay Bay Resort and Spa (4 stars). They have different types of rooms starting at 2,000 baht ++ for a Deluxe Room to 4,5000++ for a Private Cottage to 5,5000++ for a Beachfront suite during Low Season.
Other popular and economical accommodations on Railay West are Sand Sea Resort (1,200 baht++/night during Low Season) and Railay Village Resort (2,900 baht++/night). The 3 hotels mentioned here are incredibly child/family friendly and romantic for couples and honeymooners.
The posh and strictly private hotel on Railay Bay is the 5 star Rayavadee Hotel (starting at 15,000++/night during Low Season (!)). The hotel spreads itself over from Railay East and West with some excellent hotel bars under a limestone cave. Everything else, you cannot see unless you are an actual guest!
There used to only be a handful of hotels on Railay Bay but it has obviously exploded with tourism and people's love for Railay's beauty and charm.
If you are a die-hard rock climbing fan, Tonsai Bay is one of the world's most famous rock climbing spots, boasting a difficult climb of 8C. Tonsai Bay Resort is the plushest accommodation you will get on this bay (900++/night during Low Season ) as it is more meant for backpackers and rock climbers only. You can find rooms with no AC for 300 baht and will eat, sleep and breathe your rock climbing gear only.
As ever with the south of Thailand, get yourself on an island tour and you won't regret it. Prices start at 700 baht from Railay Bay for a day trip commencing from 9am – 3pm. These prices and times will vary accordingly to the number of people on the boat and whether you'd like to go private or not. The beautiful blue-green waters surrounding Krabi has lots of opportunities to jump in and snorkel and/or dive.
Other activities include kayaking day trips, elephant hiking, ATV tours, motorcycle rentals which start from the mainland of Krabi.
During High Season (end of November to end of May), the weather is generally cooler and sunny although you may still see some scattered showers and be warned of the overly crowded tourism.
Ao Nang is the popular Krabi town right next to a long stretch of beach which is a popular jumping off point for getting to Railay. You might want to stop off here before or after your trip to Railay Bay. When we were there during Low Season (June), restaurants along Ao Nang offered a 20% discount on their food and drinks.
Here you can find rooms starting at 500 baht depending on Low or High Season. We usually book through Agoda.com and searches for a well-known hotel chain like Best Western is under 800 baht/night during Low Season.
Krabi, and Railay Bay in particular, is a slice of paradise on earth for beach lovers and adventure seekers. Enjoy!