You just cannot make this stuff up. The main story on the front page of today's Bangkok Post is that Thai Police officers in need of discipline will be forced to wear bright pink Hello Kitty armbands as a badge of public shame.
I read the Bangkok Post religiously every day, and it's because stories like this seem to crop up on a regular basis. Clearly the editors have a sense of humour. Dominating the front page of the newspaper today is the story "Turning pink with shame" which details how the Crime Suppression Unit have come up with a novel way of disciplining officers – making them wear pink Hello Kitty armbands. Check out the pictures below – one is the Bangkok Post front page, and the other is a closeup of the main armband photo. You can read the full Bangkok Post story online here, but that link will expire within 24 hours.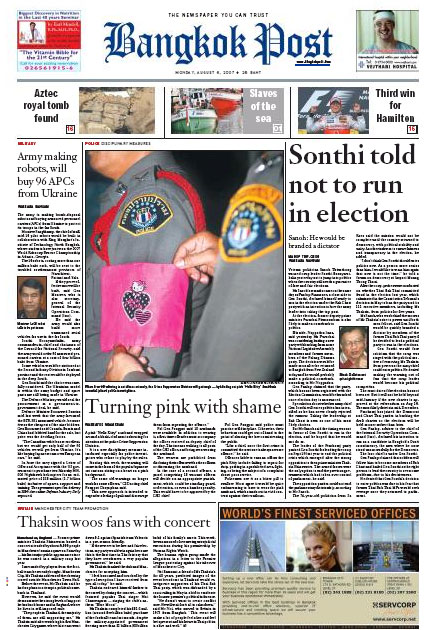 Bangkok Post, 6th August 2007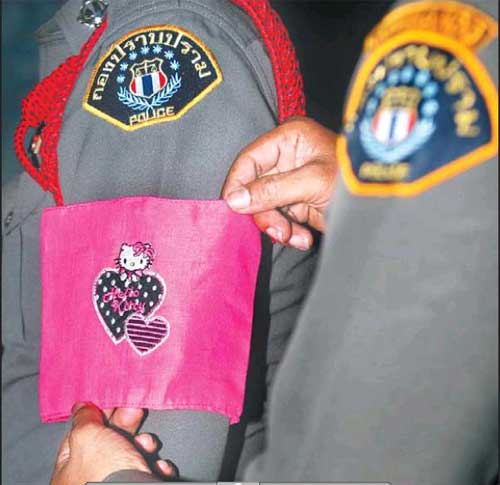 Close Up of The Pink Police Hello Kitty Armband Of Shame
This is extremely clever pyschology, as the Thais have a lot of belief in keeping face and wearing one of these armbands would definitely make the wearer open to public ridicule – especially as they have to follow the Deputy Chief around for an entire day, placing them in front of their follow officers all the time.
From the Bangkok Post article:
"A pink "Hello Kitty" armband wrapped around a khaki-clad arm is shouting for attention at the police Crime Suppression Division.
It is a new disciplinary measure introduced especially for police investigators who refuse to play by the rules.
Starting this week, the warning will come in the form of the popular Japanese cat cartoon sitting on a heart on a pink background.
"The same old warnings no longer work for some officers," CSD acting chief Pongpat Chayaphan said.
"This new approach is intended to engender a feeling of guilt and discourage them from repeating the offence."
Offences liable to earn an officer the pink Kitty include failing to report for duty, parking in a prohibited area, fighting, or being the subject of a complaint about poor service.
Policemen see it as a bitter pill to swallow. Most agree it would be quite embarrassing to have to wear the pink armband, which stands out in vivid contrast against their uniform."
See also: the Sin City / Hello Kitty handbag mashup and the Hello Kitty vibrator (nsfw, obviously, but not rude).
Find Hello Kitty on Ebay
Not an Ebay registered user yet? Sign up today – it's free!
[phpbay] hello kitty, 30 [/phpbay]