See all of Bangkok beneath you as the sun goes down at Vertigo, the highest open air bar and restaurant in all of Asia Pacific
A truly stunning al fresco bar and restaurant, Vertigo is perched 61 floor above Bangkok and ideally positioned to watch the city move from day to night as the sun goes down and all the city's lights comes on. Breathtaking views over Thailand's capital contrast with the fantastic colours of the sunset which light up the whole sky. It's definitely one of the must-see places you should visit on a tour of Bangkok.
Despite being so high up, the Vertigo always seems remarkably protected from gusts of wind, although if it rains the restaurant remains closed. Vertigo is part of the super chi-chi 5 star Banyan Tree hotel, and is has prices to match. It's real flashpacker stuff, but you can still go there on a budget – simply enjoy some drinks at the Moon Bar which aren't that expensive (250 – 500 baht) and then head off to go eat somewhere more affordable once it's gone well and truly dark. Vertigo has a strict dress code of closed shoes and trousers for men, so don't turn up in your sandals and shorts, because they won't let you in. Girls can turn up wearing pretty much anything.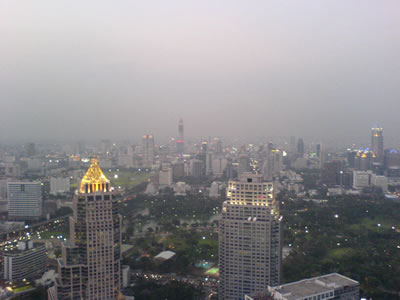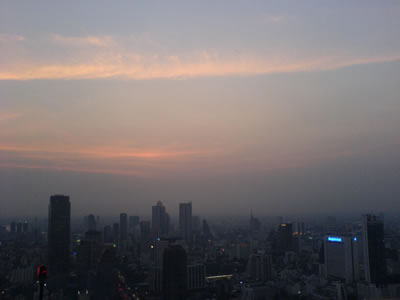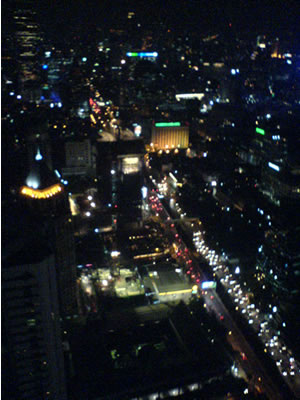 See Vertigo's booking page for some more info and some stunning photos showing the city's twilight panorama.
Getting there is easy – take a taxi (they all know where the Banyan Tree is) or jump on the MRT – it's about a 10 minute walk from Lumpini Park MRT station.
You can also book the Banyan Tree hotel online if you want the ultimate in Bangkok opulence.