At first glance, Bangkok's skyline may simply look like an endless expanse of towering modern skyscrapers. However, an incredible mix of temples, historical buildings, unique structures and cool attractions are spread around Bangkok, many of which are surprisingly easy to find.
From European inspired buildings to beautiful Thai architecture, Bangkok is home to a massive amount of architectural variety. Below, we've listed several buildings of architectural interest in Bangkok, from modern skyscrapers with amazing views to beautiful historical buildings.
Traditional Thai Architecture
Jim Thompson House

Jim Thompson House, exterior view © shankaronline
The Jim Thompson House is a historical Thai teak house constructed for American entrepreneur Jim Thompson in the 1950s. The house itself is actually six separate structures that contain Thai and Southeast Asian art. Today, the house and its grounds are open as a popular museum.
Location: Soi Kasemsan 2, Five minutes from BTS National Stadium.
Suan Pakkad Palace

Suan Pakkad Palace © sunyan8439
Located on Sri Ayutthaya, Suan Pakkad Palace is a long distance from Bangkok's more popular palaces and temples. The palace, which was converted into an art museum in 1952, is made up of eight pavilions and houses that offer an excellent example of traditional Thai architecture.
Location: 352-354 Sri Ayutthaya, best accessed by taxi or from BTS Phaya Thai.
Kamthieng House Museum
Located inside the grounds of The Siam Society on Sukhumvit Soi 21, Kamthieng House is a beautiful example of Lanna Architecture — a historical empire that ruled large parts of Northern Thailand until the 18th century. The house, which was transported from Chiang Mai, contains a collection of Lanna cultural items and antiques.
Location: 131 Sukhumvit Soi 21, a short distance from MRT Sukhumvit and BTS Asok.
Temples and Religious Buildings
Grand Palace
The Grand Palace is one of Bangkok's most popular attractions. A large complex of temples and historical buildings, two architectural highlights of the Grand Palace include Wat Phra Kaeo (the Temple of the Emerald Buddha) and the Chakri Maha Prasat hall.
Chakri Maha Prasat, which was built for King Rama V, is known as "European with a Thai hat" due to its unusual architecture, which combines a Western-style building originally designed by John Clunich and Henry C. Rose with traditional Thai spires.
Location: Rattanakosin, accessible via Maharaj or Tha Chang pier.
Wat Arun
One of Bangkok's most iconic temples, Wat Arun is a beautiful riverside temple dedicated to the Hindu god Aruṇá. The temple, originally constructed in the mid-17th century, is best known for its tall spire, which was added on the order of King Rama II in the 19 century.
Location: Opposite Wat Pho, accessible via cross-river ferry from Tha Tien pier.
Wat Saket

Wat Saket (Golden Mount) © jasoneppink
Known in English as the "Golden Mount", Wat Saket is a hilltop Buddhist temple that overlooks Bangkok. The temple, which was built during the Ayutthaya Kingdom, offers incredible views of downtown Bangkok from its location on Rattanakosin Island.
Location: Rattanakosin, accessible via taxi or from Phan Fa Lilat pier.
Assumption Cathedral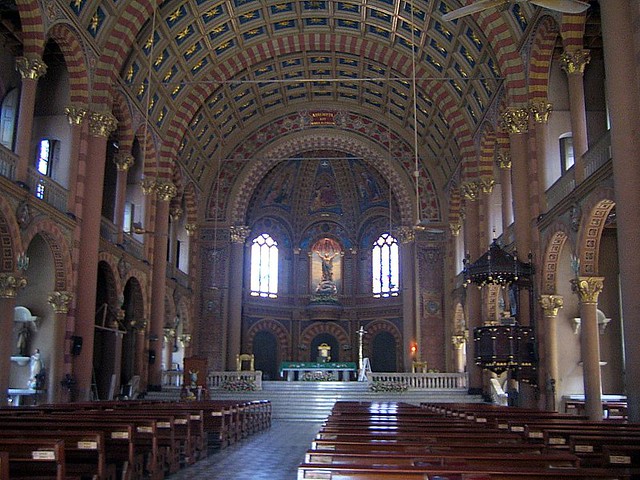 Assumption Cathedral © veritatem
One of several churches in Bangkok, Assumption Cathedral is a Roman Catholic cathedral in Bang Rak. The church, which was visited by Pope John Paul II in 1984, is a Renaissance style building that was completed in 1919 to serve Bangkok's growing Catholic community.
Location: 23 Charoenkrung Soi 40, accessible via taxi or on foot from BTS Saphan Taksin, or using the free shuttle boat to the Mandarin.
European Inspired Buildings in Bangkok
Phaya Thai Palace
One of several European inspired buildings constructed during the reign of Rama V, Phaya Thai Palace served as the King's "country retreat" until his death in 1910. Since then, the palace has served as an international hotel and as a hospital for the Royal Thai Army.
Today, the Thewaratsaparom Throne Hall and its famous Roman gardens are open to the public and are a popular architectural attraction.
Location: Inside the grounds of Phramongkutklao Hospital on Ratchawithi Road, accessible on foot from BTS Victory Monument.
Vimanmek Mansion

Vimanmek Mansion © akarat
Built in 1900 as a palace for King Rama V after his royal visit to Europe, Vimanmek Mansion is the world's largest teakwood building. The building, which combines Thai and European styles, has recently been restored as a museum to the life of King Rama V.
Location: Part of Dusit Palace on Rajvithi Road, best accessed by taxi.
Ananta Samakhom Throne Hall
Another building in the Dusit Palace complex, Ananta Samakhom Throne Hall was built as a reception hall during King Rama V's reign. Completed in 1915, the building was designed in a Renaissance Revival style by Italian architect Mario Tamagno.
Location: Part of Dusit Palace on U Thong Nai, best accessed by taxi.
Monuments and Statues
Democracy Monument

Democracy Monument © leomei
The Democracy Monument is a large monument on Ratchadamnoen Avenue. Built in 1939 to commemorate Thailand's transition to a constitutional monarchy and democracy, the monument is an important landmark.
Location: Ratchadamnoen Avenue, best accessed by taxi.
Victory Monument

Victory Monument © mikebehnken
Built somewhat prematurely in 1941 to celebrate Thailand's annexation of some parts of French Indochina, Victory Monument (Anusawari Chai Samoraphum) is a large military monument on a roundabout in Bangkok's Ratchathewi District.
Location: A short walk from BTS Victory Monument.
Modern Buildings
Robot Building
(UOB Headquarters)


Robot Building © viriyincy
Designed by Sumet Jumsai and built in 1986, the Robot Building is a modern office building that serves as the headquarters of United Overseas Bank in Thailand. The building is designed in the style of a giant robot, inspired by the architect's son's childhood toy.
Location: Sathorn Road, a short walk from BTS Chong Nonsi.
Elephant Building

Elephant © 55038808@N08
Another creation of Sumet Jumsai, the Elephant Building is a mixed use high rise in Chatuchak District. The building, which looks like a giant cartoon elephant from the side, is more polarising than Jumsai's others: CNN described it as one of the world's "ugliest skyscrapers" in 2011.
Location: Phaholyothin Road, accessible by taxi from MRT Phahon Yothin.
MahaNakhon
Soon to be Thailand's tallest building, MahaNakhon is a mixed use tower under construction in Bangkok's financial district. The building has a unique cuboid design that, combined with its 314 metre height, makes it a major landmark that's easy to spot in Bangkok's busy skyline.
Baiyoke Tower II

Baiyoke Sky Tower in Bangkok © drflint
At 304 metres in height, Baiyoke Tower II was until recently Bangkok's tallest building. A giant tower hotel, Baiyoke II is far from the city's most luxurious building, but its 84th floor revolving roof deck offers great views of the city.
Boutique Hotels in Bangkok
Our pick of boutique hotels in Bangkok are: