Applying for a Myanmar visa in Bangkok is surprisingly straightforward if you know where to go. Here's some tips on making it easy on yourself.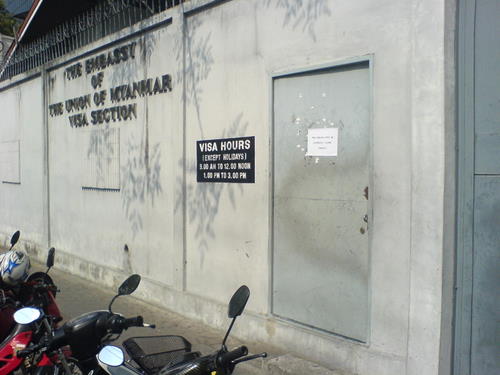 Myanmar Embassy, Bangkok
June 1st, 2012 – Visas On Arrival: Important Note
There have been reports that you can now get a visa on arrival at Yangon Airport. However please note this does NOT currently apply for tourists. Only business visas and transit visas are currently available on arrival. Tourists still need to get a visa in advance of arriving in Myanmar. If you do not have a Myanmar tourist visa in your passport, you will not even be allowed to check in on your flight to Yangon from Bangkok Airport. (as happened traveller GL Ker who tweeted about it. Obviously this situation may change soon but for now getting a tourist visa for Myanmar in advance is still essential)
UPDATE November 2012: Travelhappy reader George provided this very handy summary of the current visa process:
Hi Chris and all readers, just a quick update/some tips:
1. Embassy is open from 9:00-12:00 for visa application. Visa collection is now from 15:30-16:30. The afternoon opening hours appear to have been limited to that now (the other hours which were 13:00-15:00 are taped off with black tape).
2. I got there at 8:30 on Wednesday (24th Oct) and there was already a queue about 30 meters long. I asked the first people in the queue what time they had started queuing. They said 6:30am. So I guess if you want to be in the front bit of the queue you should be there by around 7:00am. The doors opened at 9:00am sharp. I found the people at the embassy friendly and fast by the way.
3. Rather than wait for the embassy to open to get the forms, arrive early and then walk 100m down the street until you see a yellow sign indicating copy shop. This is in a small alley. There you can have your passport and tickets copied for a few baht (I paid 12 I think for 3 copies). The good thing is, they have aircon, and they have the forms. So you can sit down at their table, and fill out the forms, stick your passport photos on, etc. and be completely ready when you enter the embassy – it sucks if you have to get forms and queue again. This little shop provides an excellent service.
Original story:
Today I picked up my tourist visa for Myanmar, where I'll be heading this Saturday. Getting a visa for Myanmar in Bangkok is pretty straightforward if you know how the Myanmar Embassy works.
Myanmar tourist visas take two working days to process at the Bangkok Myanmar Embassy and currently cost 810 Thai Baht. You can pay an extra fee of around 300 Baht (I think) and collect your visa the same day provided you arrive to apply for it first thing in the morning. You then pick it up in the afternoon.
The Myanmar Embassy is open for visa applications from 9 am to 12 noon. The earlier you get there, the better. All you need to do is fill in the Tourist Visa form (A4 size) and the Arrival Form (A5 size), affix a passport sized photo to each form and then queue up on the right hand side to hand in your passport and application forms and pay your visa fee. At the time of writing, the tourist visa forms are currently located on the left hand side of the counter and the business visa forms are located on the right hand side, so make sure you have a tourist visa form.
Filling out the tourist visa form is straightforward. Remember to avoid writing anything controversial under Occupation like "journalist" or "photographer". Keep it as bland as possible. Similarly, write the name of the first hotel you are staying at – or one you have seen in your guidebook – under the space for your Place of Residence during your visit. (You can book Myanmar hotels online with Agoda – be warned, the huge influx of tourists into Myanmar in 2012 means that accommodation is in short supply. It is strongly recommended that you book your hotel in advance as there often no rooms available at any price).
Depending on the queue, you can file your forms within an hour or so. The earlier you get there the more chance you have of beating the queue. It is common sense to not leave getting a Myanmar visa to the last minute – give yourself a few days space before you depart for Myanmar in case any problems occur. Remember that the Embassy will be shut on both Myanmar and Thai holiday days – as it was when I applied for my visa – which will delay your visa pickup by one more day.
Collecting the visa is best done in the morning, before 12 noon. The official collection time in the afternoon is from 3pm onwards, NOT from 1pm when the Embassy reopens after lunch. If you arrive at 1pm to collect your visa (as I did), you will be standing around waiting for at least half an hour until the officials finish whatever work they are doing and decide to start handing out completed visas earlier than 3pm.
The Myanmar Embassy in Bangkok is located at 132, Sathorn Nua Rd in Silom. It is very near to Surasak BTS Skytrain station. From Surasak station, go to Exit 3. Walk down onto street level and then turn right when you get to the bottom of the stairs so that you are walking along the pavement underneath the Skytrain station. You will pass the Skytrain's escalator entrance. If you don't, you are walking the wrong way down Sathorn Road!
Continue walking up the busy Sathorn Road for about 200 metres. You will arrive at a forbidding grey looking wall with big spikes on top at the corner of Sathorn Road and Thanon Pan. This is the Myanmar Embassy. Walk a few metres down the side road Thanon Pan and you will find the entrance to the Myanmar Embassy's Visa section. It is a unmarked steel door with no handle. See the photo above.
If you find yourself waiting around during the Embassy's lunch hour, there is the Thailand Book Tower another few metres after the Myanmar Embassy along Sathorn Road which has a cafe and English language newspapers. There is also an S&P Cafe on the opposite side of the road accessible by a pedestrian bridge if you need a full lunch. S&P does very good coffee – lattes, cappuccino etc etc.